WOR(l)D Presents The Brand Space Along With Three New Great Products
October 20, 2014
By Tina Williams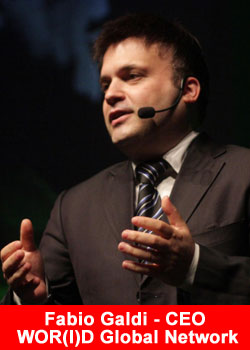 The CEO of WOR(l)D, Fabio Galdi, debuted the trademark Space, tiny preview of a new futuristic product of WOR(l)D Global Network that will revolutionize the world of computers and smartphones.
They presented the new and unique suite, SpaceWork, a personal online office. A suite which consists of three products: SpaceOffice, Space Desk and Space Auditorium.
With SpaceOffice associates will be able to organize online video-calling with up to 32 video – guests. SpaceOffice will be available in three versions: computer, tablet and smartphone
SpaceDesk contains: a personal mail box, calendar, storage and videopostcard
SpaceAuditorium is the system by which you can organize conferences for up to 1000 guests sharing files of various kinds. Even SpaceAuditorium is available in three versions: computers, tablets and smartphones.
Through SpaceWork WOR(l)D company confirms the high quality standard to which he has been accustomed to in recent years.
About WOR(l)D Global Network
Improving people's lives, offering an unequalled business opportunity and revolutionary products: these are the pivotal mission points of WOR(l)D and of his CEO Fabio Galdi. WOR(l)D in a few years established itself as one of the leaders of the networked economy.
Featuring the latest generation of pioneering wearable technology, Space computer and Space glasses will allow users to comfortably wear binocular smart glasses which are connected to a small 8×4 cm personal computer.
But ambition does not prevent WOR(l)D to widen the tech horizon. In fact, one of the main brands under WOR(l)D, Power Clouds, establishes itself to be one of the largest solar energy producer in the world with the creation of almost 20 solar plants worldwide in one year in constant growth.
WOR(l)D is therefore a multifaceted company which establishes itself as ground- breaking innovator in tech, renewable energies and social.