4Life Korea Celebrates Success
November 15, 2014
By Nicole Dunkley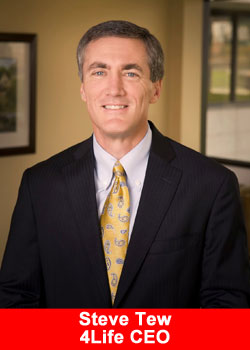 4Life Korea held a success rally to commemorate strong growth and rank advancements at the Daemyung Vivaldi Park Grand Ballroom, Hongcheon-gun, Gangwon-do, Korea. More than 1,000 attendees celebrated the advancement of 550 new distributors to higher ranks including new Platinum International Diamonds Dr. Jase and Dr. Jinsun Khyeam.
The event also included the launch of 4Life Transfer Factor Renuvo® and congratulatory messages by Vice President, International Preston Richards and Vice President, U.S. Field Development Nathan Larsen. Other corporate representatives in attendance included 4Life Korea General Manager Tony Lee and International Director Yukako Kaiser.
Distributor leaders at the event included Platinum International Diamond Bonnie Taylor and Dr. Jase Khyeam, Gold International Diamonds Son Jae Min, Grace Chun and Lee Sun Woo, Kang Ok Nye, Hong Suk Eui and his wife Ms. Kim Mi Jung, Choi Ki A, Park Mi Ae, and Agung Dwija Saputra from Indonesia.
Bonnie Taylor shared an inspirational message with the audience as she reflected on her own success story. "When 4Life products and business opportunity were first presented to me, I had my doubts. Today, I can say with certainty, however, that 4Life offers the best products, compensation plan, and executive team available in the network marketing industry. I offer my congratulations to those who are achieving new ranks and hope that each of you will continue to stay focused on building your business with confidence."
Preston Richards: "4Life Korea has shown significant increases in sales growth with a 131.7% increase in sales from last year. Additionally, September 2014 represented the highest daily average sales month of all time for the company. These successes are attributable to the hard work and commitment of distributor's in Korea. On behalf of 4Life and the executive team, we sincerely appreciate all of your efforts."
4Life has offices on five continents to serve a global network of independent distributors through science, success, and service.