4Life Launches 24th Market In Hamburg, Germany
November 25, 2014
By Nicole Dunkley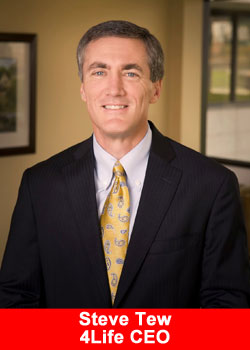 Last weekend, 4Life opened the company's twenty-fourth international market in Hamburg, Germany. The ribbon-cutting ceremony was attended by 400 distributors and guests.
Vice President, Europe Rafael Fernández: "4Life Germany is in a strategic location to drive growth and support the field. This office offers great opportunities for our entrepreneurs to develop their businesses and relationships."
The new office space is designed to provide meeting space for 4Life distributors throughout Hamburg and Germany at large. The 500-square-meter office includes six multi-purpose meeting rooms, a business library/computer lab, and two smaller rooms for individualized training.
"The new office will give a major boost to those taking the 4Life opportunity to people in the German market," stated Vice President, International Preston Richards. "This office is a big leap forward in Europe and throughout the world."
The capacity-plus crowd celebrated 4Life's entry into the market with a recognition ceremony. Gold International Diamonds from Spain Carme Solà Xalabardé and Ángels Muñoz Estape were in attendance.
Foundation 4Life® contributed a donation of €2,000 EUR to the German organization, Kinder Tapfere, to support projects for needy children in Hamburg.
Ángels Muñoz Estape: "The German office staff is well equipped to support the distributors of Germany! This office is a symbol of the investment that 4Life makes to the field. Together, as a team, we are committed to making a difference and setting a new benchmark."
4Life has offices on five continents to serve a global network of independent distributors through science, success, and service.