Ackman Sends Warning To Herbalife's New Compliance Chief
November 8, 2014
By Tina Williams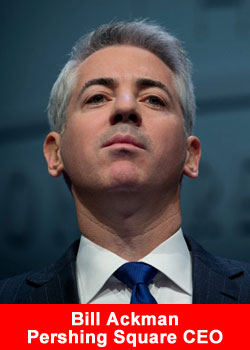 The NY Post reported earlier today:
Bill Ackman wants to give Herbalife's new head of compliance, Pamela Jones Harbour, a few pointers.
The billionaire activist and Herbalife's biggest critic on Thursday fired off a 19-page letter to Harbour — who has been on the job just a month — telling her that she has her work cut out for her.
"Based on our extensive investigation over the past three years, we believe Herbalife operates the largest and best-managed pyramid scheme in the world," David Klafter, a lawyer for Ackman's Pershing Square hedge fund, wrote in the letter first reported by Reuters.
Harbour is facing an "immense" challenge as the company's business will likely collapse if she does her job and acts in the best interests of consumers, the letter warns.
"You may find yourself at the fulcrum of choosing between protecting consumers or protecting the company. Based on our research, we do not believe you can do both," Klafter said.
Herbalife's declining sales in the US over the past two quarters indicate that is already happening, Klafter suggested.
Since Herbalife stunned Wall Street on Monday with lower-than-expected earnings and dismal projections, the stock has fallen about 30 percent, closing at $39.99 on Thursday.
While Herbalife has suggested recent weakness in its earnings and sales is due to changing its business practices, "many of the company's recent changes… actually create greater opportunities to mislead recruits," Klafter said.
He pointed to a 90-day waiting period before a recruit can open a nutrition club, so training can occur, as one example. Most of Herbalife's growth in the US comes from store-front operations known as nutrition clubs.
"The 'training,' violates consumer and labor laws," Klafter wrote, reiterating a point Pershing Square made in its recent presentation on nutrition clubs, which it believes are primarily recruitment centers.
The letter suggested a laundry list of changes, including "modifications to the compensation system to de-emphasize incentives for recruiting and increase incentives for achieving legitimate retail sales."
For example, there is a "need for Herbalife's compliance professions to have the authority to examine top executives and top distributors' conduct," Klafter added.
"To discuss these changes, we would like to meet with you," he wrote.
Herbalife didn't immediately respond to a request.