Herbalife Reported 3rd Quarter Results, Sales Up 4%
November 4, 2014
By Tina Williams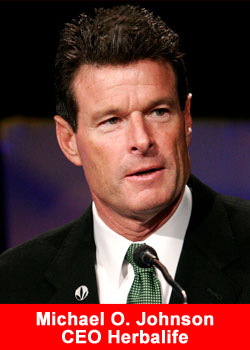 Herbalife Ltd. (NYSE: HLF) today reported third quarter net sales of $1.3 billion, reflecting an increase of 4 percent compared to the same period in 2013. Adjusted1 net income for the quarter was $125.1 million, or $1.45 per diluted share, compared to $152.1 million, or $1.41 per diluted share for the same period in 2013.
On a reported basis, the company announced third quarter net income of $11.2 million, or $0.13 per diluted share, compared to $142.0 million, or $1.32 per diluted share for the same period in 2013.
Third quarter 2014 reported net income was negatively impacted by $139.5 million in pre-tax charges, or $0.97 per diluted share after tax, related to the remeasurement of Venezuelan Bolivar denominated assets and liabilities at the SICAD I and SICAD II rates, and $17.5 million in pre-tax charges, or $0.13 per diluted share after tax related to a legal reserve.
For the quarter that ended September 30, 2014, the company generated $101.9 million net operating cash flow, and purchases of property, plant and equipment in the period were$34.5 million.
Michael Johnson, chairman and CEO stated, In the quarter we saw volume increases in two-thirds of our 91 countries, especially Russia and China. Excluding the impact of currency translation in Venezuela, the company had solid increases in both volume and net sales.

We continue to implement initiatives that we believe will further strengthen our foundation and drive long-term improvements in activity, productivity and retention of our Sales Leaders. We are proud of our members' ability to grow the business in the short term while embracing changes that we believe will enhance the long-term opportunity.
Mr. Johnson continued, The changes we are applying globally, such as first order limits, have been tested in key markets and proven to drive positive results in terms of long term sustainable growth. China, Russia and parts of Europe are all great examples of markets that are stronger now than they were before we implemented such changes.
While these initiatives may continue to moderate near-term volumes and sales growth, we know from our experience in those markets that have already adopted them, that they enhance the experience of our members and their customers, and position us for even greater future success. Our industry-leading Gold Standard consumer protections, changes designed to encourage our newest members to grow their businesses prudently, and a focus on growing a customer base of life-long customers all help our members become more productive and successful leaders.

We know that these initiatives work, and coupled with the strength of our business model, the efficacy of our products and the power of our brand, will lead the company into its next phase of growth.
Outlook
Guidance for fourth quarter FY'14 includes an unfavorable impact from currency rates of approximately $0.31 compared to the prior year, inclusive of approximately $0.22 fromVenezuela. Guidance for FY'15 includes a currency headwind of approximately $0.66, including approximately $0.45 from Venezuela.
About Herbalife Ltd.
Herbalife Ltd. (NYSE:HLF) is a global nutrition company that sells weight-management, nutrition, and personal care products intended to support a healthy lifestyle. Herbalife products are sold in more than 90 countries through and to a network of independent members. The company supports the Herbalife Family Foundation and its Casa Herbalife program to help bring good nutrition to children.