LifeVantage President & CEO To Present At WFDSA World Congress
November 11, 2014
By Nicole Dunkley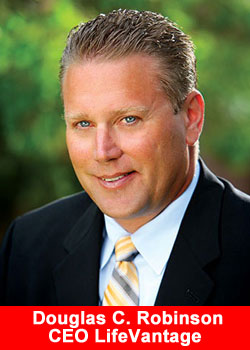 LifeVantage Corporation, announced that Douglas C. Robinson will be presenting at The World Federation of Direct Selling Associations (WFDSA) World Congress in the city of Rio De Janeiro.
Mr. Robinson is participating as a member of a three-person panel representing fast growing direct selling companies from different geographical regions and cultures that will present their most successful strategies and results within their respective organizations.
The World Federation of Direct Selling Associations is a non-governmental organization representing the direct selling sector globally, bringing together over 60 Direct Selling Associations around the world as members.
The WFDSA is bringing direct selling organizations from around the world under one roof to share best practices, explained LifeVantage President and Chief Executive Officer Douglas C. Robinson. I am excited to be selected as a presenter for such a prestigious and a monumental event. It is truly an honor.
About LifeVantage Corporation
LifeVantage Corporation, is a science based network marketing company that is dedicated to visionary science that looks to transform health, wellness and anti-aging internally and externally at the cellular level. The company is the maker of Protandim®, the Nrf2 Synergizer® patented dietary supplement, the TrueScience™ Anti-Aging Skin Care Regimen, Canine Health, and the AXIO™ energy product line. LifeVantage was founded in 2003 and is headquartered in Salt Lake City, Utah.