October 2014, Best Sales Month In 4Life History
November 28, 2014
By Nicole Dunkley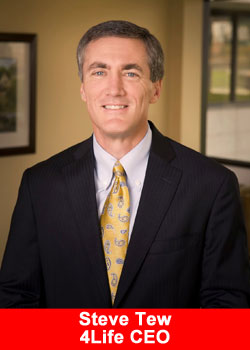 October 2014 represented the best sales month of all time for 4Life. Year-to-date sales have increased by approximately 13% and the company recently opened in its 24th market with an office in Hamburg, Germany — 4Life's third European office after Spain and Italy.
4Life President and CEO Steve Tew identified ten international markets whose year-over-year sales growth contributed to October's success.
India 11% • Ecuador 12% • Spain: 13%
Malaysia: 13% • Dominican Republic: 33%
Peru: 36% • Panama: 70% • Indonesia: 72%
South Korea: 126% • Hong Kong: 135%
Tew: "For sixteen years, 4Life distributors have proven what is possible when they commit themselves to sharing the products and opportunity with others. This record month is a testament to the work being done in the field, not only in our top performing markets, but in dozens of countries around the world."
Earlier this year, 4Life was ranked #41 by Direct Selling News on its Global 100 list of largest direct selling companies.
4Life Founder and Chairman of the Board David Lisonbee: "When my wife Bianca and I launched 4Life in 1998, we knew what was possible. But we also knew that the company could not exist without dedicated field leadership. Ultimately, our corporate growth reflects the growth and stability of 4Life home-based businesses. I congratulate our distributors everywhere."
About 4Life
4Life Founders David and Bianca Lisonbee launched the company's flagship immune system support product, 4Life Transfer Factor. As the first network marketing company to do so, 4Life's leading group of doctors, scientists, and researchers continue to advance immune system science with innovations in product formulation, production standards, delivery methods, and more. Today, people in more than 50 countries enjoy the immune system support of 4Life products.