Zija International To Host Améo Essential Oils Training With Industry Experts
November 27, 2014
By Nicole Dunkley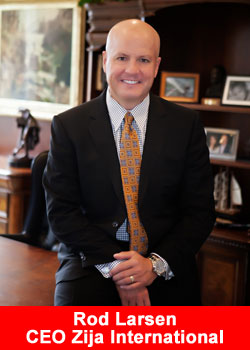 Zija International's new product division, Améo Essential Oils, will be holding an exclusive training on essential oils; the event will feature keynote addresses from industry leaders in essential oils and aromatherapy.
The educational night will be held on Tuesday, December 16th at 7:00 p.m at the Provo, Utah, Marriott Hotel and Conference Center. The featured speakers are Dr. Daniel Pénoël, Pierre Franchomme, and Michael Scholes, all highly regarded essential oil and aromatherapy specialists. For more information and registration details you can click HERE.
About the Speakers
Dr. Daniel Pénoël
Dr. Pénoël was born in Paris in 1951. At an early age, he gained an appreciation for the earth and a desire to protect it. He has extensive health and wellness education and training as a Doctor of Medicine and Doctor of Homeopathy. While practicing medicine, Dr. Pénoël learned about the power of essential oils and the positive influence they can have on the body. He became especially aware of the importance of using clinical-grade essential oils for normal body function. He has used essential oils as a practitioner around the world, including in France, Australia, and England.
Dr. Pénoël has published several books and been a public speaker worldwide, educating individuals and medical practitioners regarding the benefits and correct uses of clinical-grade essential oils, including at the recent Zija Summit 2014 event.
The mission and philosophy of Dr. Pénoël is to empower individuals and families to learn about and take charge of their own health and well-being utilizing natural essential oils. He considers essential oils to be a life-protector and life-enhancer.
Pierre Franchomme
Mr. Franchomme was born into an herbalist family. After practical and medical studies at the Sorbonne, he joined the School of Naturopathic PV Marchesseau, where he rediscovered the benefits of essential oils.
In the first laboratory he created in France, specializing in essential oils, he pursued extensive research on the beneficial properties of essential oils in collaboration with several laboratories in biology, including Pasteur Institute and the medical schools of Toulouse and Mons.
Pierre went on to found the International School of Aromatherapy, where he continued his research in a second laboratory in Romania, the Centrul of Cercetare has Plantelor, allowing significant advances in the field of essential oils. Mr. Franchomme passed on his knowledge in France in the Institute of Hygiene and Natural Medicine, the Faculty of Natural Medicine Free and Ethnoveterinary of Paris, and the Faculty of Medicine and Pharmacy, Besançon.
He is also Vice President and Director of the Scientific Committee of the Association of International Solidarity—The Barefoot Doctors"—and is currently in charge of a major humanitarian mission in Haiti.
Michael Scholes
Mr. Scholes is an international aromatic consultant who was trained in England and France by one of France's leading specialist in aromatic medicine, Dr. Daniel Penoel. He has spent the last 27 years teaching aromatherapy in the US and has presented over 15,000 hours of aromatherapy classes to over 20,000 students worldwide including Asia, North and South America and Europe.
Michael is the president of the Laboratory of Flowers where he specializes in organic essential oils and products for body, bath, skin and hair as well as healing products for the practitioner and spa's through massage and energy medicine. His latest work is designing the concept of the "Aromatic Spa" and "Aromatherapy Apothecary" in addition to signature treatments and products.
Mr. Scholes divides his time between formulating, writing, lecturing, consulting, product development, essential oil research and resourcing essential oils worldwide. He is a contributing writer for several magazines on aromatherapy. In his role as an instructor and lecturer, Scholes has become a leading spokesperson for aromatherapy in America often consulting with large corporations. His knowledge of aromatherapy is sought after for his skill as a master blender, therapeutic formulator and natural perfumer.
About Zija International
Zija International, a privately held and privately funded business founded by Kenneth E. Brailsford and run by Rodney Larsen, develops natural health, wellness, nutrition and fitness products. The company operates in more than 50 countries worldwide.
Zija has seen consistent growth every year since it was founded over 9 years ago and was recently named the "Fastest-Growing Company in Utah" by Utah Business Magazine. It has also been recognized on fastest-growing and top-revenue lists by Inc. Magazine, Direct Selling News, and Utah Valley Magazine, to name a few.
With corporate offices located in Lehi and more than 4 million sq. ft. of state-of-the-art warehouse, shipping and manufacturing facilities located in Utah, United States, Zija International employs more than 200 individuals and has the capacity to grow to more than two billion dollars in annual sales.