Zrii In Process Of Expanding Into Southeast Asia
November 14, 2014
By Nicole Dunkley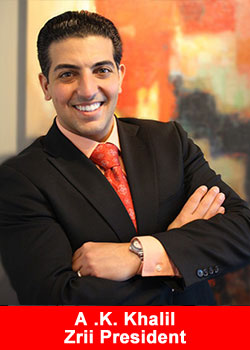 Zrii has been experiencing rapid growth in countries around the world, such as Colombia, Peru, Mexico, Costa Rica, Guatemala, New Zealand, and Australia, among others. Growth in these markets has propelled Zrii to a milestone that few companies ever achieve in network marketing: more than $10 million a month in sales.
Riding this wave of success, Zrii is excited to announce that it is in the process of expanding its global operations into Kuala Lumpur, Malaysia. Kuala Lumpur is one of the top 10 markets within the Direct Selling industry and one of the fastest growing markets in the world.
Bill Farley, Founder and CEO of Zrii, states, From day one, I have always envisioned Zrii as a global brand. Through the leadership of our President, A.K. Khalil and our entire corporate staff, we have been able to turn that vision into a reality over the last 2 years. That vision continues with our expansion into Southeast Asia.
Zrii's President, A.K. Khalil, states, Our goal is to turn Zrii into a multi-billion dollar brand. Partnering with our tremendous field leadership, we have successfully planned for and launched Zrii in markets across Latin America – resulting in growth of over 1000% in a period of just 24 months. And this is just the beginning.
Mr. Khalil continues, The Southeast Asian market was the next natural step for us. Our products are a natural fit for Malaysian direct sellers who are looking for a powerful business opportunity and products that fuel a healthy lifestyle. We are proud to partner with the renowned industry leaders Regina Noriega and Doug Wead, along with the members of the HD Group, in this market and we look forward to tremendous success and growth here.
Kalin Hall, Zrii's Vice President of Sales, states, Zrii continues to attract quality field leadership teams with extraordinary backgrounds. This says quite a bit about the Zrii opportunity and what it inspires in people. The quality of the product, the compensation plan, and the combination of established networkers working with the young, vibrant leaders of tomorrow is a formula that is leading us to continued success.
About Zrii
Zrii was founded in 2008 with the goal of enhancing the health and happiness of people around the world through clean, all-natural nutrition and wellness products. Zrii partners with the world-renowned Chopra Center for Wellbeing, headed by Dr. Deepak Chopra, to create ultra premium products that promote radiant total body health from the inside out. Zrii products are sold through a network of Independent Executives throughout the United States, Canada, Australia, New Zealand, and Latin America.