Ackman Going After Herbalife… Again
December 12, 2014
By Tina Williams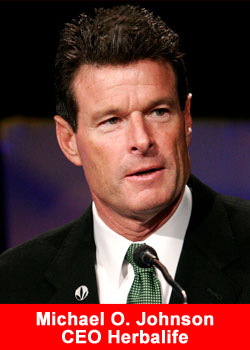 Herbalife Ltd. (NYSE:HLF) is back in the spotlight yet again, thanks to Bill Ackman's firm, Pershing Square Capital Management. This month marks two years since the activist investor publicly announced his short of the nutritional supplements company.
Now his firm accuses Herbalife distributors of "routinely making false, dangerous and illegal medical claims to potential customers.
Pershing Square issued a press release making these new allegations this morning. The firm also posted a video about it on its anti-Herbalife website. The video allegedly shows some distributors of Herbalife's products violating regulations set forth by the Food and Drug Administration and also an injunction issued in California in 1986. That injunction demanded that Herbalife and its distributors stop making the illegal medical claims immediately.
The firm's representatives reviewed publicly available video that shows Herbalife Ltd. (NYSE:HLF) executives making medical claims about the company's products as well for more than 30 years. Pershing Square said the multi-level marketing company can't deny knowing about this practice because high level executives like CEO Michael Johnson also made allegedly misleading statements.
Distributors name several medical benefits
In the video compiled by Pershing Square, distributors name a number of medical issues that Herbalife Ltd. (NYSE:HLF) products can supposedly help with and in some cases possibly cure. Among the problems named are asthma, diabetes, hypertension, bronchitis, migraines, arthritis, weight loss, cellulitis and high cholesterol.
According to the firm, distributors receive training, often at events sponsored by Herbalife itself, to make "false medical claims in order to lure potential requires to purchase large quantities of products and to attempt the Herbalife 'business opportunity.'"
Herbalife tweeted this response to this morning's video from Pershing Square:
Herbalife addresses California injunction
According to the Financial Times' Dan McCrum, Herbalife Ltd. (NYSE:HLF) describes the injunction Pershing Square mentions as "a legal approval of its business." The company reportedly made those comments in written arguments in a civil suit it settled recently in California. Herbalife paid $850,000 to settle claims that it made unproven health claims.
Originally Reported by ValueWalk.com