Demand For Herbalife Product Grows Despite Naysayers
December 30, 2014
By Tina Williams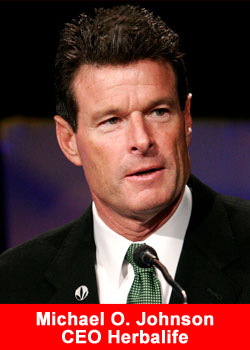 Bidnessetc.com conducted a survey and the results are promising. They explain below:
Herbalife Ltd. (NYSE:HLF) stock has dropped 51.18% year-to-date (YTD), due to weaker-than-expected financial results for its past two quarters and rising concerns of the company running a pyramid scheme.
To get some insight into the demand for Herbalife's products and the company's business model, Bidness Etc conducted a survey of Herbalife's distributors.
The results of our survey support the argument that real demand for Herbalife's products exists, distributors remain largely satisfied with the company, international regions like South Africa remain strong drivers of growth for the company, and company sales are continuing to grow in both developed and developing markets.
The survey was conducted from December 16 — December 19, on 26 Herbalife distributors from the US and 25 distributors from international markets, including China, South Africa, Germany, the Middle East, and India.
After analyzing the survey results, we have shortlisted seven eminent themes for Herbalife Ltd., which are as follows:
Strong Growth In Demand For Products
According to most respondents, from both US and international markets, sales for Herbalife products are growing at a high rate. 92% of the US respondents said their sales of Herbalife products have increased compared to last month, while 96% of international respondents stated the same.
Distributor Janet Gayle from New York, US stated: "I have sold more [Herbalife products] this month compared to last month." Other respondents from US, Europe, and India were optimistic about further improvement in sales during Christmas, and the growing demand for Herbalife products.
An individual distributor from Germany stated: "Herbalife product sales are booming like crazy in Europe," while a respondent from India claimed: "The Herbalife market is a growing market in the entire country."
The distributors claim there is strong growth in sales for the company's products, while many US distributors usually run out of stock as well. Demand for Herbalife products in the US is outpacing even distributors' expectations. However, the stock outs are more common in the US than the international markets, as US distributors tend to order lower quantities to meet product demand for two to four weeks. Distributors in international markets order larger quantities.
According to various international respondents, higher-than-expected sales for certain new Herbalife products have caused stock-outs as well.
"Usually, the products with high demand run out of stock. Our new skin product was on a seven-day trial, and it was so good that its demand increased and the product went out of stock," stated a distributor from Germany.
The following responses were received when the survey respondents were asked: "Did you have more stock-outs for Herbalife products this month, compared to last month?"
Distributors Remain Satisfied
Most of Herbalife's distributors are content and pleased with the business opportunity with Herbalife. About 92% of the respondents said they want to continue doing business with Herbalife in the future, while the rest had mixed opinions. The responses from the US and other countries were surprisingly similar.