Mega Holdings Convention Expects To Draw 7,000 Attendees
December 28, 2014
By Team Business For Home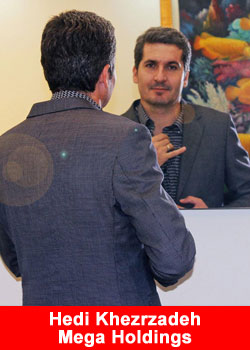 Mega Holdings is incorporated in Hong Kong and its Management team is headed by Chairman/Founder Michael Cheng, a successful business entrepreneur with rich experience in network marketing and other business investments in several parts of the world.
On 29 December, Mega Holdings will held his convention in Turkey in Istanbul and expect to draw 7,000+ attendees and several top earners will be present such as Enes Olgun, Mesut Öpengin, Fatih Yazici, Hasan Acer, Hamit Dogan, Selim Doruk, and Selman Olgun.
Dr. Hedi Khezrzadeh, the International Ambassador of Mega Holdings, shares his thoughts on the achievements of Mega Holdings in 2014 and the vision of 2015.
Mega Holdings' achievements in 2014 can be classified into three categories i.e. product value, market expansion and sales growth.
Product Value: As the Company rides on the theme of "everyone can design, can create", Mega Holdings' corporate strategy is to focus on developing an Easy Builder to facilitate everyone who wishes to own a website, to build it quickly and effortlessly, and thereafter, to manage it.
As the objective of Mega Holdings is to create the best-value Easy Builder in the market, we now have a wide variety of themes and professionally-developed designs from which to choose to formulate a customer's desired cyber home. Website owners are able to make changes to their unique websites anytime to suit their specific needs without having to wait for approval from the hosting Company. These are value-added factors contributing to Mega Holdings' success in 2014.
Market Expansion: We successfully penetrated the EU market in 2014 with the establishment of the Mega Holdings Agency in Germany to service the 28 EU countries. Mega Holdings' presence in the EU has been received with great enthusiasm and excitement.
Sales Growth: With the continued support of customers, Country Agents and leaders, we achieved a phenomenal four-fold increase in sales in 2014.
The other important achievements in 2014 were: (1) two new leaders successfully attained their million dollar income status and became members of the MH Million $ Club, (2) six customers hit Mega Star status 'a shining star in the sky'. These are two critically important milestones every MH customer would aspire to reach in their direct-selling career.
Our objectives and programs for 2015 include: (a) the launching in early 2015 of the Responsive Website (i.e. allowing mobile access), (b) adding more useful features and applications to the Easy Builder, which will make it even more user-friendly, (c) adapting to the US business environment in preparation for the possible eventual introduction of our business model to the US market, (d) the launching in the 1st quarter of the Agency for the Balkan states to spearhead Mega Holdings' presence there, and (e) targeting for a 5-fold increase in sales growth.