Natura Cosmetics Joins B Corps: Will Other Big Business Embrace Sustainability Certification?
December 15, 2014
By Tina Williams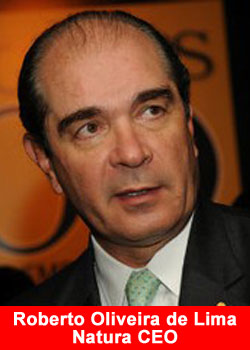 The Guardian reports:
Natura, Brazil's top cosmetics, fragrance and toiletries maker, this week became the largest – and first publicly traded – company to attain B Corps sustainability certification.
The certification program, which is run by B Lab, is designed to encourage high standards of environmental and social stewardship and transparency among businesses.
Until now, in some ways, B Corps has seemed like a noble – if limited – experiment, a method for ideologically driven companies to pursue sustainability while still surviving in a business environment that is red in tooth and claw.
While the program has had considerable growth – currently, there are more than 1,170 B Corps businesses located across 37 countries – the majority are small and privately owned. The question arises: for all the good that the B Corps does, can it appeal to major economic players?
Natura's recent move suggests that the answer is yes. And the Brazilian company isn't the only prominent, well-funded business that has recently sought certification. Earlier this month, crowdfunding platform Kickstarter and energy company Green Mountain Power both announced that they have attained B Corps certification.
Both companies are strong players in their respective fields. In March 2014,Kickstarter passed the $1bn mark in lifetime funding – and over half of that money was raised between March 2013 and March 2014. In other words, the friendly little funding site is rapidly gaining real economic might. As for Green Mountain Power, the first B Corp utility, it supplies electricity to 80% of the households in Vermont.
But the biggest news, by far, is Natura. With 7,000 employees and extensive operations across Latin America, the company posted net sales of US $2.65bn in 2013. It is also a major player globally: in addition to extensive overseas sales, Natura owns 65% of Australian cosmetics maker Aesop, which has operations that extend across Asia, Australia, Europe and North America.
Taken as a whole, Kickstarter, Green Mountain and Natura represent a shift in the size and scope of B Corps' businesses. "In the past two years we've seen an increasing number of large and well-known companies join the movement," says Katie Kerr, communications director at B Lab.
While the reasons for pursuing B Corps certification vary from company to company, Kerr notes that they usually come down to three main considerations: branding, legal protection and talent recruitment. The first reason, she notes, certainly applies to Natura: "For 40 years, Natura has been a leader in sustainability in Latin America. B Corp certification could help them solidify their position and solidify their commitment for the future."
This aim was borne out by a recent announcement from Natura, in which the company announced plans to establish "concrete commitments" to adopt new sustainability guidelines by 2020.
In the US, the legal ramifications of B Corps certification – and the related "Benefit Corporation" designation – can provide significant legal protection for a company's sustainability objectives, both from shareholders and potential takeovers. Unsurprisingly, many companies with a documented commitment to sustainability – such as Ben & Jerry's, Warby Parker, Method cleaning products and Cabot Creamery – have sought the designation.
In the long term, though, the biggest value of B Corp certification may be its value in attracting high-quality employees. A recent Brookings report noted that 64% of millennials will take a pay cut to work for a job they value and that 63% want their employers to "contribute to social and ethical causes". With this in mind, Kerr argues: "B Corp certification can be very helpful for companies trying to attract the best talent."
With its expansion into high-profit, international businesses, B Corps seems to be demonstrating that sustainability isn't merely a consideration for small companies. "Any business can be committed to measuring their impact and start using business as a force for good," Kerr says.
That's the theory, anyway. Industry insiders will certainly be keeping an eye out to see whether more mainstream businesses follow suit.