4Life Announces Corporate Promotions For 2015
January 16, 2015
By Nicole Dunkley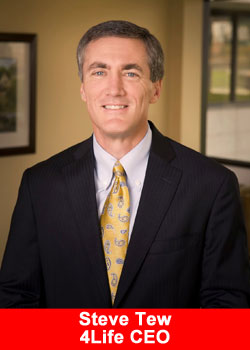 Due to continued growth in the U.S. and abroad, 4Life President and CEO Steve Tew is proud to announce several high-level corporate promotions for the 2015 calendar year.
The new vice presidents are Deborah Dixon as Vice President of Field Development for Spanish Markets, Teressa Street as Vice President of Quality Assurance, and David Vollmer, PhD, as Vice President of Analytical and Quality Services.
Dixon's new responsibilities include collaborating with Spanish-speaking distributors to develop relationships and achieve business objectives in the U.S., the Caribbean, Europe, South America, and Central America. Street will oversee the strategic development and tactical implementation of 4Life's quality systems. Finally, Dr. Vollmer's team will ensure that all quality testing at 4Life complies with worldwide regulatory requirements for dietary supplements, nutritionals, and cosmetics.
In addition, new 4Life directors include Jenny Bean as Director, International and Rick Eastman as Director of Technical Support. Bean will provide operational direction to support Chinese-speaking distributors through the company's Hong Kong and Taiwan offices. Whereas, Eastman will oversee operational support for technical assistance to 4Life's global headquarters as well worldwide international offices in 24 countries.
Tew: "Each of these 4Life employees has proven themselves highly capable in their areas of expertise. It's a pleasure to see them advance within our organization."
About 4Life
In 1998, 4Life Founders David and Bianca Lisonbee launched the company's flagship immune system support product, 4Life Transfer Factor. As the first network marketing company to do so, 4Life's leading group of doctors, scientists, and researchers continue to advance immune system science with innovations in product formulation, production standards, delivery methods, and more. Today, people in more than 50 countries enjoy the immune system support of 4Life products.