Primerica Embarks On A 9-city Tour Throughout North America
January 16, 2015
By Nicole Dunkley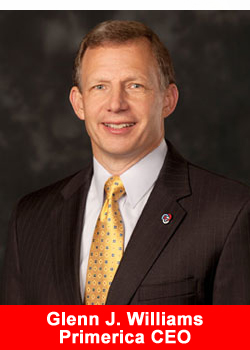 Primerica, Inc., the leading distributor of financial products to middle income families in North America, announced today that Glenn Williams, who will be advancing to the role of Chief Executive Officer, will meet with the company's top sales force leaders in a 9-city tour across the U.S. and Canada.
During these meetings, Williams will be joined by current co-CEO John Addison, Peter Schneider, who will be advancing to President, and other Primerica home office leaders. Exciting new sales force initiatives will be highlighted in the sessions, which are expected to attract thousands of representatives at each location.
The meetings will also celebrate 2014 successes, including growth of life insurance face amount in force to approximately $682 billion at year's end, as well as record-breaking Investment and Savings Products (ISP) sales of $5.7 billion and client asset value of over $48 billion, an increase of 9% and 7% respectively, year-over-year. In 2014, Primerica also paid approximately $590 million in compensation to its sales representatives, which represents an increase of more than $50 million, year-over-year.
Glenn Williams said, "2014 was an historic year for our company. We rolled out new products and incentives to our sales force, and ended the year riding a strong wave of momentum with a sales force of 98,350 representatives, reflecting a year-over-year increase of more than 2,800 representatives. In 2015, we are working to capitalize on this momentum by launching initiatives to accelerate growth. The sales force is the most important factor to our success, and I am proud of the leadership provided by our representatives and their record-breaking performance. I look forward to the great things that we will accomplish in the coming year."
About Primerica, Inc.
Primerica, Inc., headquartered in Duluth, GA, is a leading distributor of financial products to middle income households in North America. Primerica representatives educate their Main Street clients about how to better prepare for a more secure financial future by assessing their needs and providing appropriate solutions through term life insurance, which we underwrite, and mutual funds, annuities and other financial products, which we distribute primarily on behalf of third parties. In addition, Primerica provides an entrepreneurial full or part-time business opportunity for individuals seeking to earn income by distributing the company's financial products. Primerica insured more than 4 million lives and have over 2 million client investment accounts at December 31, 2013. Primerica stock is included in the S&P MidCap 400 and the Russell 2000 stock indices and is traded on The New York Stock Exchange under the symbol "PRI".