Trévo Announces 2015 Trip Award Program
January 9, 2015
By Nicole Dunkley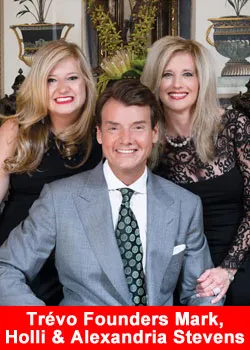 Trévo is once again proving that hard work in their network doesn't go unnoticed, as it has announced an amazing Trip Award Program for its members in 2015. As part of the promotion, Trévo will be sending its top performers on a luxurious getaway to a dazzling resort destination.
In 2015, Trévo Life and Health Coaches that earn Director-level rank will be rewarded with an amazing retreat to a luxurious resort in their country or region. These members will be able to kick back and relax with other Director-level members on an all-expense paid getaway, and celebrate the extraordinary success they achieve through Trévo.
Life and Health Coaches that earn Executive- or Diamond-level rank will take an all-expense paid, out-of-country trip hosted by Trévo CEO, Mark Stevens, and his wife and Trévo Co-Founder, Holli Stevens!
"2014 was an incredible year for our company, and was just further proof that our Life and Health Coaches put in amazing work for this company," Stevens said. "We are so excited to announce this our Trip Award Program, because we wanted to do something special and unique for those members that go above and beyond for Trévo."
This trip promotion is just another example of the many ways that Trévo consistently recognizes the hard work and achievements of its Life and Health Coaches. Whether it is through their unique "Eight Ways to Make Money" compensation plan, or through prizes and giveaways throughout the year, Trévo's reputation as a generous and rewarding company continues to grow.
Full trip award information will be announced to all Trévo Life and Health Coaches soon!
ABOUT TRÉVO
Trévo's Founders are Mark and Holli Stevens who have a proven track record of over 16 years as owners of a successful network marketing company. Mark and Holli have also been on the "other side of the table" as independent representatives, building organizations with tens of thousands of members. This dynamic duo also possess nearly four decades of combined business ownership expertise.
Trévo's proprietary blend of over 174 premium nutraceuticals, including maqui and acai berries, mangosteen, amalaki fruit, gotu kola, ashwagandha and a cornucopia of other fabulous nutraceuticals. In fact, Trévo has developed the only nutritional supplement in the world to combine and harness the power of such a remarkable array of vitamins, minerals, "supergreens," antioxidant-packed fruits and vegetables, coral calcium, and herbs from around the globe.
Based in Oklahoma, Trévo LLC is powered by a global network of many thousands of energetic and excited Life and Health Coaches