4Life Indonesia Commemorates Expansion
February 17, 2015
By Nicole Dunkley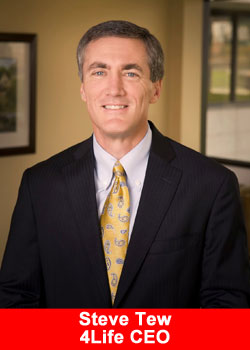 4Life Indonesia recently held a ribbon-cutting ceremony to commemorate the expansion of the 4Life Surabaya Office.
In 2014, 4Life Indonesia enjoyed rapid growth. The office expansion, which includes more meeting space for distributors to share 4Life products and the business opportunity with customers and prospects, is a direct result of ongoing growth in the field.
VIP's in attendance included Gold International Diamonds Dr. Eduard Hutabarat and Katharina Sihombing and Christin and Agus Soemarsono—each of whom addressed the crowd.
Distributors traveled from East and Central Java to attend the event, which included corporate presentations by Vice President, International Steve Apple and General Manager of Indonesia Deddy Aryadi. Attendees enjoyed a flower-rope cutting and yellow rice cake.
Deddy Aryadi: "This office expansion is a symbol of 4Life Surabaya's rapid development. It is a symbol of the commitment our distributors have to 4Life's mission as well the commitment 4Life maintains for each and every one of its distributors."
4Life's Surabaya office is located in the Bumi Mandiri Tower II on the 10th Floor, Room 1003, in Surabaya, East Java.
About 4Life
In 1998, 4Life Founders David and Bianca Lisonbee launched the company's flagship immune system support product, 4Life Transfer Factor. As the first network marketing company to do so, 4Life's leading group of doctors, scientists, and researchers continue to advance immune system science with innovations in product formulation, production standards, delivery methods, and more. Today, people in more than 50 countries enjoy the immune system support of 4Life products.