Alliance In Motion 2015 Convention Expects 50,000+ Attendees
February 14, 2015
By Team Business For Home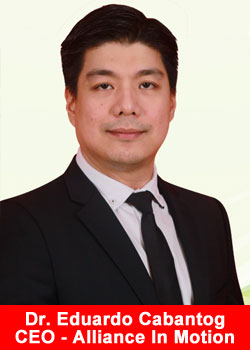 Alliance in Motion is a rather unknown Network Marketing company outside Asia, however the company has hundred thousands of distributors worldwide and CEO Dr. Eduardo Cabantog was voted as the Nr. 1 in the Top Direct Selling CEO in the world 2014.
The company as the Nr. 1 in the Top Direct Selling Companies Poll 2015.
This MLM company is formed in the Philippines by the triumvirate – owners Dr. Eduardo Cabantog, Francis Miguel and John Asperin in September 2005.
Alliance In Motion celebrates 4 major events each year and each event would yield around 15 to 20,000 attendees.
The 9th anniversary convention will be on May 31 which will take place at the Philippine Arena, the world's largest indoor arena which has a maximum capacity of 55,000 people.
The company is expecting a huge number of attendees especially leaders and distributors based abroad – from the USA, Africa, the Middle East, Asia and Europe.
The company distributes and markets top-of-the line food supplements manufactured by Nature's Way USA, and premium blended beverages. AIM Global is the only direct sales company accredited by Nature's Way USA as its exclusive distributor for Direct Sales in the Philippines.
Alliance In Motion 2014 Convention with 20,000+ members
AIM Global is considered one of the top companies in the MLM industry and is a staunch advocate of direct sales entrepreneurship. Its dynamic "pro-distributor" marketing plan has attracted and benefited hundreds of thousands of distributors. The business has provided opportunities for distributors to gain financial independence and have provided a better future for their families.
Over the years, AIM Global has built a strong presence with 3 branch offices in Cebu, Davao, General Santos City and 104 Business Center Offices in the country, currently at hand. The move to go global has opened vast opportunities for the company. And in just a few years, AIM Global has established international offices in Singapore, Korea, Taiwan, Hawaii and Dubai. The company opened its doors in the African continent and established its offices in Nigeria and Ghana and recently has set up its Business Center in Kuwait. Offices in Macau, Malaysia and Indonesia will follow suit in the coming months.
The company has partnered with 300 schools, clinics and hospitals nationwide to provide scholarships and medical programs designed to help our distributors and their families avail of affordable, quality education and medical services.
The company acknowledges the dedication and hard work of its top distributors and rewards them with all expenses paid travel incentives to further inspire them to excel in the direct sales business.