Amway Sales Dip In Largest Market
February 26, 2015
By Tina Williams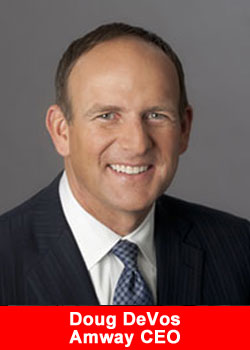 Amway Corp, the world's largest direct sales company, announced its revenues fell 8 percent to $10.8 billion in 2014 due to a dip in Chinese mainland sales and fluctuations in currency exchange rates.
A survey by China Knowledge Economy's Direct Selling magazine found that Amway's revenue in the Chinese mainland decreased from 29.3 billion yuan ($4.72 billion) in 2013 to 28.7 billion yuan last year, but the Chinese mainland still remained the company's biggest market.
It is the first decline for the Amway in the Chinese mainland after growth rates hit 27 percent over the previous five years and 45 percent for the decade, according to company reports.
Sales in 2014 reflect the significant efforts by Amway business owners and employees who continue to do well around the world despite challenging operating environments found in several nations that are major markets, said Amway Chairman Steve Van Andel.
We continue to see great strength globally as select markets hit record sales numbers and others show resilience that point to strong results in 2015, he said.
Some of the company's most-mature markets, including South Korea and Taiwan, registered strong growth in 2014. Sales in Brazil, Mexico, Argentina, Costa Rica, Guatemala, Chile, Panama, Italy and Spain saw double-digit growth, while markets influenced by political unrest and economic slowdowns?Russia, Thailand and Ukraine?showed resilience and produced solid results, according to the company.
Amway's top 10 markets in 2014 were the Chinese mainland, South Korea, Japan, the United States, Thailand, Russia, Taiwan, India, Malaysia and Ukraine.
The company's sales were concentrated in nutrition, beauty, durables and home care, with nutrition products continuing to lead the way, accounting for 43 percent of direct sales revenue.
Beauty products contributed 25 percent, followed by durable products at 19 percent and home care products at 8 percent.
Amway President Doug DeVos said the company is optimistic and well-positioned for growth in 2015 and beyond as it opens five new manufacturing facilities, many new Amway experience centers and improves the online experience.
According to Direct Selling magazine's survey at the end of January, 49 companies had direct sales permits on the Chinese mainland and 46 were operational. Together they generated 159.91 billion yuan in total sales, a 24.3 percent increase over 2013.
The increase shows steady progress in the direct sales industry in the country, said the survey, as domestic companies catch up with foreign peers.
Following Amway, Malaysia-based Perfect China Co Ltd ranked No 2 in China with 28 percent growth in sales to 22.3 billion yuan last year. Herbal health product maker Infinitus China Co Ltd soared 37.5 percent on sales of 16.5 billion yuan. Revenues for skin care and nutrition product maker Nu Skin declined from 6.4 billion yuan in 2013 to 4.4 billion last year.