Herbalife Stock Battles Continue
February 20, 2015
By Tina Williams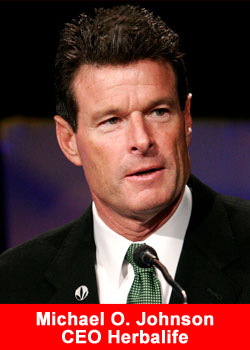 Bloomberg reports: George Soros's fund boosted its stake in Herbalife Ltd. in the fourth quarter, signaling that the embattled maker of diet shakes and supplements still has the billionaire's backing.
The investor's firm, Soros Fund Management LLC, added 1.56 million Herbalife shares during the quarter, according to a regulatory filing Tuesday. New York-based Soros Fund now owns 3.8 percent of the company. The stake was valued at about $130 million as of Dec. 31, according to the filing.
Herbalife, which sells nutrition products through a network of independent distributors, came under fire in 2012 from investor Bill Ackman, who accused it of being a pyramid scheme. That led to a probe by the U.S. Federal Trade Commission and slowing growth at Herbalife, which has switched to more conservative sales practices. The stock plummeted last year as Herbalife's woes mounted.
The shares jumped 5.5 percent to $34.59 at the close in New York after Bloomberg News reported Soros's increased position before the filing was released. The stock has declined 21 percent since the end of the third quarter.
In separate filings Tuesday, Okumus Fund Management Ltd. disclosed it had sold all of its almost 2 million shares, while Tiger Consumer Management LLC unloaded its 1.8 million shares.
Previous Selloff
Soros's increased stake in the fourth quarter follows a period in which the firm pared its holdings. It cut its stake by 2.85 million shares, or about 60 percent, in the third quarter. The value of the stake had declined by 73 percent to $82.6 million in that period. Herbalife was the fund's 31st-biggest holding, according to a 13F filing at the time.
The Herbalife saga is a showdown of billionaire investors, with Soros and Carl Icahn lining up against against Ackman. In recent months, Ackman has held the upper hand: The shares have fallen by more than half from last year's high.
Another of Herbalife's backers, Perry Capital, divested its stake in the nutrition company in the fourth quarter. The investment firm sold about 5.6 million shares, which were valued at $243.9 million at the start of the quarter, according to a filing Friday with the U.S. Securities and Exchange Commission.
Meanwhile, Bill Stiritz, the company's fourth-largest shareholder, has added to his stake, a person with knowledge of the matter said last month. Stiritz, who reported an 8.2 percent stake in Herbalife a year ago, won't be required to file a regulatory disclosure, said the person, who asked not to be identified because the situation isn't yet public. Regulators require large shareholders to disclose significant additions to their stakes.