LifeVantage CEO Douglas C. Robinson Resigns
February 3, 2015
By Team Business For Home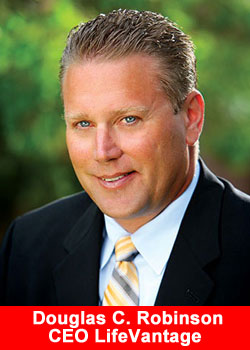 LifeVantage Corporation (LFVN) announced today the appointment of Dave S. Manovich, an independent director of the Company, as Executive Vice Chairman, effective immediately.
The Board and Douglas C. Robinson mutually agreed that Mr. Robinson will step down from his role as President, Chief Executive Officer and Board Member, effective immediately. The Board has formed a search committee to identify a qualified candidate to serve as the Company's next CEO.
Furthermore, the Board has created an interim Office of the President consisting of LifeVantage's Senior Operational Officers to provide seamless leadership continuity and continued execution across the Company's strategic initiatives and oversee day to day operations. Dave Manovich will oversee the Office of the President and manage the strategic and tactical direction of the Company's operations until a new CEO has been appointed.
The Interim Office of the President will be made up of Shawn Talbott (Chief Science Officer), David Phelps (Chief Sales Officer), David Colbert (Chief Financial Officer) and Bob Urban (Chief Operating Officer). Additionally the other members of the senior executive team, Rob Cutler (General Counsel and Corporate Secretary) and Michelle Oborn (Vice President of Human Resources), will also report directly to Dave Manovich.
On behalf of the entire company, I would like to thank Doug Robinson for his leadership and contributions to LifeVantage over the last five years said Gary Mauro, Chairman of the Board. We appreciate his hard work and dedication to growing our company's footprint, ensuring our transition from retail to network marketing, positioning our distributors for the next phase of growth and strengthening our product line. We wish him the best in his future endeavors.
We are very pleased Dave Manovich has accepted the position of Executive Vice Chairman and we believe this change will lead to greater success for our distributors and improved long-term growth for our shareholders. We have a very strong management team and distributor base and are confident that the leadership transition will be seamless, concluded Mr. Mauro.
After having discussions with the Board, I have concluded that it is in the best interests of the Company to step down from my position as President, CEO and Board Member, said Mr. Robinson. I am incredibly proud of what we have achieved during my tenure, and while I will miss everyone at LifeVantage, I'm confident the Company's exceptional team of talented employees, distributors and leadership will ensure its best days are ahead.
Mr. Manovich has been an investor in LifeVantage for over a decade, an independent member of LifeVantage's Board of Directors since January 2012 and has extensive experience in executive sales and marketing operations and distribution management and development.
He currently serves as Managing Partner of D&S Investments, a private investment entity and has held several executive level positions throughout his career with leading technology companies including COO of @Road Inc., Executive Vice President for worldwide sales at Apple Computer and Vice President of Sales for Fujitsu P.C. Mr. Manovich received an MBA in Finance and started his career as a CPA with Deloitte, Haskins and Sells.
About LifeVantage Corporation
LifeVantage Corporation, is a science based network marketing company that is dedicated to visionary science that looks to transform health, wellness and anti-aging internally and externally at the cellular level. The company is the maker of Protandim®, the Nrf2 Synergizer® patented dietary supplement, the TrueScience Anti-Aging Skin Care Regimen, Canine Health, and the AXIO energy product line. LifeVantage was founded in 2003 and is headquartered in Salt Lake City, Utah.