Primerica Q4 Revenue Up 9% To $346.5 Million
February 11, 2015
By Team Business For Home International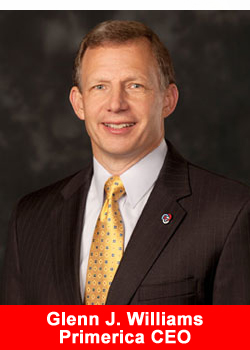 Primerica, Inc. announced today financial results for the quarter ended December 31, 2014. Total revenues were $345.4 million in the fourth quarter of 2014 and net income was $45.5 million, or $0.84 per diluted share. For the full year 2014, total revenues were $1.34 billion and net income was $181.4 million, or $3.29 per diluted share.
Net operating income, a non-GAAP financial measure, in 2014 excludes the impact of expenses recognized in the fourth quarter of 2014 related to the Co-CEO transition agreements described in our Form 8-K dated January 2, 2015 as well as realized investment gains and losses. A reconciliation of non-GAAP to GAAP financial measures is included at the end of this release.
In the fourth quarter, operating revenues increased by 9% to $346.5 million and net operating income increased by 6% to $49.0 million compared with $317.3 million and $46.2 million, respectively, in the year ago period. Diluted net operating income per share increased 9% to $0.91 compared with fourth quarter 2013 and ROAE increased to 16.4%.
Solid operating results in the fourth quarter were primarily driven by growth in Term Life net premiums and strong Investment and Savings Products sales and asset performance. Net investment income was flat versus the prior year period due to $3.0 million of income from called securities in the fourth quarter of 2014 which offset the impact of declining portfolio yields and capital deployment actions. Year-over-year insurance and other operating expenses generally increased with normal business growth and development.
Throughout 2014, growth in Term Life net premiums and ISP performance drove our strong results. Operating revenues and net operating income in 2014 grew 9% year-over-year to $1.34 billion and $182.8 million, respectively. Other notable items include modest growth in insurance and other operating expenses from business growth and increased employee incentive compensation, which mainly reflects the accelerated retirement vesting recognized in the third quarter of 2014.
On a year-over-year basis, these items were partially offset by higher legal fees and expenses incurred in 2013. Net investment income continued to decline year-over-year primarily due to the lower portfolio yields and capital deployment throughout the year. The $147.9 million of common stock repurchases during the year, equating to 5.5% of our common stock outstanding as of December 31, 2013, helped drive a 14% increase in diluted operating EPS to $3.31 for the year and a 60 basis points increase in ROAE to 15.3% compared with 2013.
Rick Williams, Chairman of the Board and Co-Chief Executive Officer said, "We are proud of the momentum generated in the business in the fourth quarter and throughout 2014. Our full year 2014 results were marked by solid performance across segments including 11% growth in Term Life net premiums, 9% growth in ISP sales and an 8% increase in ending client asset values, while the size of the life insurance licensed sales force grew 3%. John Addison and I believe the positive 2014 results make this the perfect time for a leadership transition and are confident that Glenn Williams will take the company to the next level."
Glenn Williams, who has been appointed Chief Executive Officer as of April 1, 2015, said, "I'm grateful for John and Rick's leadership over the past 15 years and look forward to capitalizing on the positive momentum. I will work to build on their successful strategy by leveraging Primerica's strengths to increase the size of the sales force, drive earnings growth and deploy capital to deliver long-term value for all of our stakeholders."
About Primerica, Inc.
Primerica, Inc., headquartered in Duluth, GA, is a leading distributor of financial products to middle income households in North America. Primerica representatives educate their Main Street clients about how to better prepare for a more secure financial future by assessing their needs and providing appropriate solutions through term life insurance, which we underwrite, and mutual funds, annuities and other financial products, which we distribute primarily on behalf of third parties. In addition, Primerica provides an entrepreneurial full or part-time business opportunity for individuals seeking to earn income by distributing the company's financial products. Primerica insured more than 4 million lives and had over 2 million client investment accounts at December 31, 2014. Primerica stock is included in the S&P MidCap 400 and the Russell 2000 stock indices and is traded on The New York Stock Exchange under the symbol "PRI".