Total Life Changes Appoints Kenny Lloyd As Vice President Of North American Sales
February 19, 2015
By Team Business For Home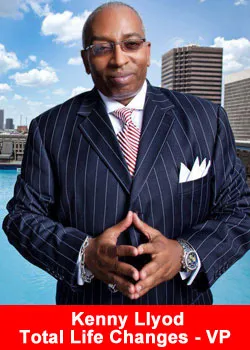 CEO Jack Fallon announces Total Life Changes Kenny Llyod as new Vice President of North American sales in Houston, Texas during a National Conference on February 14, 2015.
Kenny Lloyd has been on a crusade over the past 16 months, providing training, leadership accountability and increasing the number of recruits at an incredible rate. Kenny & Chante Lloyd, Gregg & Lenika Scott and Erwin & Twiler Portis spearheaded TLC Team USA 16 months ago.
Former top earners in the Industry with a proven track record, they have made their mark in the United States once again.
This team of accomplished business partners are responsible for the tremendous growth that TLC has seen since they arrived in December 2013.
These couples are no strangers to success.
As Kenny Lloyd would say,
"Documentation beats conversation," and they have plenty of documentation in just over one year. Since this team has joined Total Life Changes in December 2013, corporate numbers have risen week after week.

Team USA is averaging over 1,800 new recruits to the business each week with a record number of recruits hitting advanced ranks within their first 30 days in the business:
This business is predictable. This business is mathematical. You need to sort through the numbers and find those people that are trainable. Then simply train them to duplicate your success. Start by getting your first team member binary qualified. Then assist them in getting their first two team members binary qualified." Kenny Lloyd, February 7, 2015 – Bogota, Colombia- UNO International Conference.
Kenny Lloyd has a vested interest in making Total Life Changes a household name in the North America. He shares the same vision as CEO Jack Fallon and master distributor, Armand Puyolt. He has spent a tremendous amount of time planning for the future success of the company.
"What we are doing right now is preparing for a hurricane. We have seen such a tremendous amount of momentum since December 2014, that my projected numbers indicate we will have 30,000 new reps in the next 90 days. So there is a great deal of planning that myself and corporate are committed to right now to ensure that we are ready to handle these kinds of numbers," explains Kenny Lloyd.
Kenny approaches this business with a great deal of experience. He has succeeded in several other business ventures, but what he is accomplishing right now with Total Life Changes is truly commendable. TLC's CEO Jack Fallon has been seeking an individual that shares his vision for manufacturing growth in North America for some time:
Kenny and I have developed a great relationship. He has stretched us thin on many requests, but I continue to support his efforts. It's kind of funny you know. He has projected this kind of growth from the very start, much like many entrepreneurs that I sit down with weekly. But the difference is that Kenny has made it happen.
I told Kenny I would get him whatever he needs and he has come through every time for us, so we have never let each other down. Now is the right time for us both to work even more closely together and take Total Life Changes to an entirely new level of business in the North America market. We have the right products, a very attractive compensation plan and like Kenny says, we now have documentation, explains Jack Fallon.
Future plans for Total Life Changes include a new office in Houston, Texas. It will be an extension of the two corporate offices in Ira, Michigan and Fontana, California, handling customer service and local product fulfillment. The addition of this office will expedite customer service and product fulfillment, which in turn provides TLC customers and representatives a greater business experience.
About Total Life Changes
Total Life Changes offers an amazing line of health and beauty products along with a great business opportunity. TLC was created by CEO Jack Fallon 15 years ago with a single product, Nutraburst, and has grown to include our Iaso™ brand of products like our popular Iaso™ Tea.
Our hybrid binary system allows IBO's of TLC to quickly be compensated for introducing new reps our products and business opportunity. The opportunity for you to feel healthier and flourish financially is what TLC is all about!