LiveSmart 360 In Trouble?
March 7, 2015
By Team Business For Home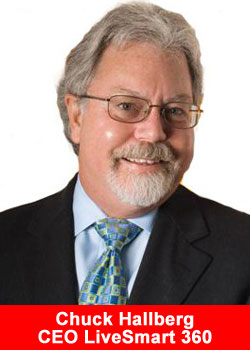 LiveSmart 360 the Sarasota, Florida, USA based direct selling company appears to be experiencing significant challenges. It seems as if there may be a lot of similarities between LiveSmart 360 and WakeUpNow.
Leaders not paid, vendors not paid, employee lay-offs? Over the last month I have received numerous emails stating this and more by very concerned LiveSmart 360 distributors.
It seems that Chuck Hallberg, the present CEO, took over in Early 2014 replacing Founder Mark McCool. Contrary to the statement provided to us by the Company, this transition was not peaceful. I'm told that Hallberg entered the Company offices in December 2013 with security escort and forced McCool from the offices and ultimately to give up his shares in the Company.
Even more surprising is that shortly before the 2015 new year, Hallberg announced that VP of Sales and Master Distributor Steven Thompson was selling his position to the company in a mutually agreeable transaction.
My sources say that the truth of the matter is Steven Thompson had no desire to leave the Company, but rather he was forced out by Hallberg. When I requested a statement from Steven Thompson he informed me that he preferred not to comment, other than to say his departure was not amicable. This sounds oddly familiar with the McCool situation.
LiveSmart 360 then announced in January Onyx Coale joined the Company in what I am told was a corporate position, not in the field, and presumably to fill the gap left by Steven Thompson. Less than 45 days later it was abruptly announced Coale would no longer be working with the Company. While her departure was downplayed, Onyx Coale was heavily promoted to the leaders as an integral player in the Company's future and I question what prompted her sudden exit.
More Distributors not paid: also concerning is the reports I am receiving about other LiveSmart 360 distributors not receiving commissions. For example, two different top leaders apparently are in dispute with the Company over commissions being held and are purportedly on the verge of pursuing formal legal remedy, while earlier this week I received information that one of the company's largest Italian leaders had been forced out.
Other obligations not paid: we have received complaints from multiple vendors stating they are not being paid by LiveSmart 360. Online searches have revealed at least one lawsuit by what appears to be a previous vendor named Alternative Labs over the production of the Manna meal replacement shake.
Layoffs: Over the last 30 days, a number of key Employees have been laid off, with the latest round of layoffs happening this past Thursday, March 5th.
Operations in foreign markets: one of the most common complaints I've received from current and former Distributors surrounds operations in foreign markets. According to these sources, the Company is providing insufficient support to their international markets and is knowingly running illegitimate operations in multiple foreign Countries.
For example, in the EU the Company allows Distributors to join from across Europe, yet two years after initially expanding into the region only a few countries are completely registered and open. In spite of this, the Company is touting yet more international expansion on it's website.
When distributors do business with a company that is not completely registered, they take on personal liability and open themselves up to fines, restitution and possibly more. It would be advisable to anyone considering LiveSmart 360 to do your due diligence and make sure all necessary filings, product registrations and licenses are complete. To often, Companies open international markets as sources to generate cash without making the proper investment to do business correctly.
Funding cut-off: according to sources, Chuck Hallberg has informed Management that no additional funding for the Company will be provided. If true, this certainly explains a lot.
More changes coming? it's rumored that other key figures in the Company are not happy with the recent happenings and may be on the verge of departure.
In summary, all signs point to a Company in trouble.
At the very least, there are many questions surrounding the real status of LiveSmart 360 and it's future….