Medifast Revenue Drops 11% To $62.4 Million In Q4
March 13, 2015
By Tina Williams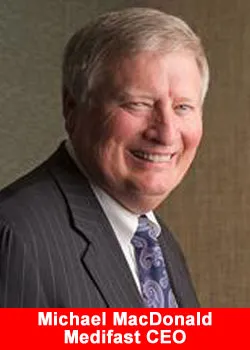 Weight-loss company Medifast Inc. lost more than $3 million over its fourth quarter as revenue plunged more than 11 percent in earnings released Thursday afternoon.
Owings Mills-based Medifast (NYSE: MED) lost $3.4 million, or 28 cents per share, in its fourth quarter ending Dec. 31 — a year after posting a profit of $5.3 million, or 39 cents per share, in the same quarter.
The company shed more than $8 million in revenue year-over-year, posting $62.3 million in the 2014 fourth quarter. Revenue missed Wall Street estimates averaging $69.4 million in analyst polling from Thomson Financial Network and company stock was down more than 8 percent in after-hours trading.
That revenue drop came as Medifast's two largest moneymaking divisions lost sales. Revenue plunged 12 percent to $45.7 million at the company's direct sales channel, Take Shape for Life. It fell 19 percent to $11.4 million at its Medifast Direct channel.
Medifast is adjusting its strategies amid shifts in the weight-loss industry, CEOMichael MacDonald said in a conference call. The company has modified its expense base so it can be profitable and generate cash, he said. But he acknowledged revenue underperformed.
We were clearly disappointed with the declines we experienced in our two largest revenue-producing channels, he said.
Medifast's employee base has fallen from nearly 900 people in 2013 to under 500 as of March, MacDonald said. The company has gone through several other changes of late, naming new division leadership,launching products and trying revised advertising strategies with recently named agency of record GKV. It also moved to close 34 corporate-owned weight-control centers and sell 17 more into a franchise model as part of a multi-year effort toward franchising.