Rusty And Angela Barton Surpass $2 Million In LIMU Earnings
March 5, 2015
By Tina Williams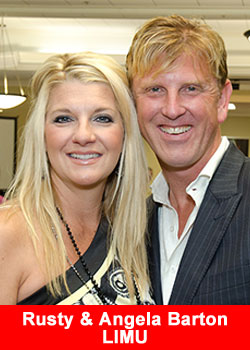 The LIMU Millionaires Club just announced that Promoters Rusty and Angela Barton have surpassed $2 Million in earnings. Based in Louisiana, Rusty is a successful 500K Promoter with an organization that spreads through a large swath of the country.
"Rusty is a great example of how Network Marketing changes lives," says Gary J. Raser, Founder, President and CEO of LIMU. "Here is a young man who was an entrepreneur but also wanted a family life. As a sole proprietor, that meant very long hours and high stress for him every day, so he turned to LIMU as the vehicle that could allow him the life he truly wanted. Now, because of that decision, he is one of our newest MULTI-millionaires."
Rusty was the owner of a local fitness center when he first heard about LIMU. As with many entrepreneurs, he enjoyed owning his own place, in his case helping people change their lives through healthier nutrition and exercise plans. But as is too often the case in small business, Rusty quickly learned that he didn't own the business at all – the business owned him. With no previous experience in Network Marketing, Rusty started working with the LIMU Experience and realized it represented a better way to live and to work, with success far beyond what he expected.
"I've always been a small-town guy with core values that revolved around helping people. In my early teenage years, I got involved in the health and wellness industry, and I thought I would focus on my fitness business the rest of my life. But when I found LIMU, I realized I could help people live better lives in a whole new way, and still have time for my beautiful family.
Angela and I have five children ages 21 all the way down to 4 months, and we can now spend the kind of quality time with them that we'd dreamed about for years. We're thrilled with what this opportunity has done for us, and for all the many people we're helping. We are so very proud to be in the LIMU family."
About LIMU
Founded in 2004, and profitable and debt-free from day one, Gary J. Raser created LIMU to help struggling families change their financial futures and stop living paycheck to paycheck. Providing entrepreneurs with exclusive and proprietary Fucoidan-rich products made in the USA, this leading direct sales company also offers each person a unique opportunity to create their personal LIMU Experience and Be more. Award-winning branding and marketing materials support LIMU Promoters, and state-of-the-art technology platforms make it easy for Promoters to share the LIMU Experience and build strong global businesses.
With over 1,200 independent, third-party, unsolicited studies on its super-nutrient Fucoidan – available on pubmed.gov – the company is the acknowledged category-creator and worldwide leader for LIMU products.