TLC Master Distributor Armand Puyolt Receives $3 Million Earner Ring
March 5, 2015
By Team Business For Home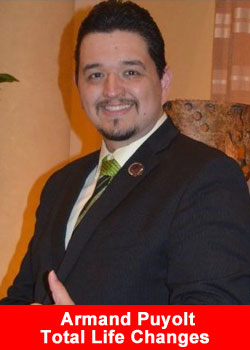 Armand Puyolt, Master Distributor for Total Life Changes propelled his success and went from earning $2 million in 2012 to over $3 million in 2014, securing his spot as the top earner in TLC.
CEO Jack Fallon presented Armand Puyolt with a $3 million earner's ring at Houston's National TLC Convention in February 2015.
"I tell people all the time that TLC is an extraordinary company that offers endless opportunities for success. You get out of it what you are willing to put into it. It's a great business for so many people from all walks of life. If you want to do the business part-time, because you are raising children or already have a full-time career, you can still have success.
If you want to do the business as a full time network marketer you will have even greater success," explains Armand Puyolt.
Armand Puyolt met with CEO Jack Fallon nearly five years ago. Together they discussed taking TLC and it's flagship product, Iaso™ Tea all over the world. Today, Total Life Changes is active in over 90 countries and has landed on nearly every continent.
The focus has always remained the same: to offer high-quality products that can immediately impact people's health. Total Life Changes has acquired thousands of retail customers that use many of the wellness products on a monthly basis:
"Armand and I shared our stories in network marketing the very first time we met. We discussed our successes and the steps we had taken to earn that success. Basically, we both agreed that the most important part of this business is to provide consumers with products that you can feel. There has to be a relatively quick turnaround from the time a customer purchases a product and feels it or gets results, " states CEO Jack Fallon.
Armand Puyolt commands the presidential office of the west coast corporate building in Fontana, California. This state-of-the-art office includes a studio, a 400-seat theater and a customer service center:
We are so very proud and really fortunate to have secured such a beautiful space. When our international leaders and managers arrive to California for meetings, we don't have to worry about leasing conference rooms at hotels or any of that. We have a very beautiful office and the theater is fantastic for hosting trainings, weekend events and corporate celebrations.
The business model and the products of Total Life Changes continues to attract record numbers weekly, now averaging well over 3,000 new affiliates per week. The up line leaders are providing wonderful training with daily conference calls, weekly accountability calls and web-based training as well. The end result is record numbers in sales and recruits. So much so that there has been a 185% growth in the past six months in sales and over 450% growth website traffic:
We are doing everything we can to keep up with this amazing growth. We had no way of projecting these kinds of numbers and when we spiked in the number of product sales and recruits in the month of December, I suddenly realized that we were not going to be able to keep up. During the past six weeks, Armand and I have been working very closely with our new Vice President of North American Sales, Kenny Lloyd, to provide greater resources that can accommodate this growth.
The problem is that putting all of these resources in place takes some time. It can't be done overnight. And the bottom line is nobody wants to hear excuses, they just want to see results. I completely understand that, and I have my entire corporate team working tirelessly to find solutions as quickly as possible, explains Jack Fallon.
About Total Life Changes
Total Life Changes offers an amazing line of health, wellness and beauty products along with a great business opportunity. TLC was created by CEO Jack Fallon 15 years ago with a single product, Nutraburst, and has grown to include our Iaso™ brand of products like our popular Iaso™ Tea. Our hybrid binary system, created by Armand Puyolt, allows IBO's of TLC to quickly be compensated for introducing new reps our products and business opportunity. The opportunity for you to feel healthier and flourish financially is what TLC is all about!