Avon Sales Fall From $3 Billion To $1.2 Billion In Less Than 5 Years
April 28, 2015
By Tina Williams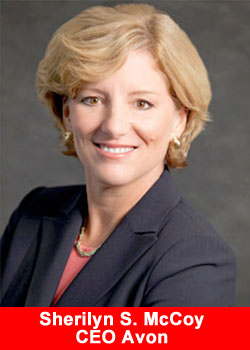 In less than 5 years, Avon has lost nearly half of its revenue, fallen off of the S&P 500, left the DSA, and lost 40% of the value of its stock. One has to wonder what other direct-selling companies can learn from this. In an article in the Wall Street Journal, they explore the reasons why:
Everyone seems to know who the Avon lady is—except for Avon.
The company is struggling with its identity. It remains heavily entrenched in the U.S., even though most of its business is abroad. It is one of the biggest direct sellers of beauty products and relies heavily on personal relationships, but it lagged behind in developing an online strategy and hasn't capitalized on the opportunities of social media. And while its focus is beauty, its representatives are busy selling a wide assortment of housewares and other products, a sort of human Amazon.com.
"That taco warmer we had recently sold really well," said Yesenia Frias, a 44-year-old Avon representative in Bogota, N.J.
The contradictions have proven to be too much. After years of strategic missteps, dismal financial results and a steady exodus of representatives willing to peddle Avon Products Inc.'s cosmetics door-to-door, the company has decided to explore more fundamental change, including possibly a sale of the company or an exit from its long struggling U.S. business, according to people familiar with the matter.
The move, first reported earlier this month by The Wall Street Journal, casts doubt on the likelihood that Avon's current efforts are enough to revive the 129-year-old beauty empire.
Avon's share price has lost about 40% of its value over the past year and was removed from the S&P 500 last month. In the U.S., the company's sales force has shrunk for the past 19 quarters, according to research by Deutsche Bank. A costly bribery scandal centered in China wiped out much of the company's top ranks and cost the company nearly half a billion dollars in legal fees and penalties.
"I'm not one to shy away from challenges," Chief Executive Sherilyn McCoy said in an interview last month, "and Avon certainly hasn't disappointed me on that front."
Ms. McCoy was recruited three years ago from Johnson & Johnson to lead a turnaround of Avon. Her appointment was announced just days after Avon declined to embrace what in hindsight seems like a rich offer from Coty Inc. to buy the company for as much as $24.75 a share. Avon's shares now trade around $9.
Andrea Jung, the company's chief executive at the time, wanted to engage more seriously in deal talks with Coty, according to people familiar with the matter. But publicly, Avon blasted its rival's approach, calling it "opportunistic" and substantially undervaluing the company. Instead, Avon said it remained confident in its stand-alone prospects.
Three years later, investors are unconvinced. Since 2011, Avon's annual sales have sunk 20% to $8.85 billion; its losses have deepened, including $389 million in red ink last year; and the company's fix-it plans have become unclear. Avon skipped presenting at a widely attended, closely watched industry conference in February, promising instead it would offer investors a detailed strategy presentation in May. Earlier this month,Avon abruptly announced it would postpone the discussion until an unnamed date this fall.
"The key strategic issue is precisely the lack of a strategy," Javier Escalante, an analyst with Consumer Edge Research, wrote this month.

"We're making good progress…[in] strengthening and leveraging our direct-selling core, maximizing our geographic portfolio and expanding our brands," an Avon spokeswoman said Monday.
Most Americans know the Avon Lady as the woman who sells lipstick, lotion and bubble bath around the neighborhood. But inside, the company has wrestled for years with getting a grip on a changed world.
Avon was founded in the U.S. in 1886 by David McConnell, a traveling book salesman who found women were more interested in the free perfume samples he carried than books.
The company flourished for generations as American women with more leisure time and money to spend welcomed Avon Ladies into their homes to teach them how to wear makeup. As the U.S. business matured, Avon poured resources into developing countries, capitalizing on the mismatch between their growing wealth and a lack of modern beauty stores. Profits nearly tripled from 1999 to 2004.
Avon's early jump on developing markets meant that its brand got established early on in crucial markets like Brazil, where it still holds an edge over much bigger companies like L'Oréaland Procter & Gamble Co. Investments in research and development helped keep Avon's skin care line, Anew, on the cutting edge, and its cosmetics and fragrances often won industry honors.
By 2005, however, sales began to sputter. Costly restructuring programs and the bribery investigation hit Avon's bottom line and distracted managers. Avon reached a settlement with U.S. regulators in 2014 and said a subsidiary in China would plead guilty to charges related to the Foreign Corrupt Practices Act.
Meanwhile, computer system upgrades in Brazil and Canada went disastrously wrong, and droves of Avon's six million sales representatives world-wide are quitting. Active representatives fell by 5% last year, an ominous reading from an important barometer of future sales.
The results are turning a harsh light on the company's operations in the U.S. Sales in North America fell 17% to $1.2 billion last year, giving further weight to analysts' calls for an exit, something people familiar with the matter said is now under review.
American women long ago stopped being home as often to open the door to a saleswoman—the vast majority of representatives continue to be women. The booming—and fiercely competitive—beauty industry responded by giving them ample alternatives for buying cosmetics, including websites, doctors' offices and vending machines, as well as drugstores and department stores.
Meanwhile, Avon's leaders were mired in debates about whether the path to future growth lay in selling its beauty products through new retail channels or by pushing a wider range of goods through its door-to-door sales force.
Ms. Jung, who stepped down as chief executive in 2012 amid dismal results, had helped the company look for sales space at retailers and introduce an Avon line of apparel as she was coming up through management. But she became a back-to-fundamentals CEO who pushed the company to focus on its well-regarded skin care and makeup, feeling the fashion and gifts that Avon sold in the past decade were often poor quality. She liked wearing red Avon lipstick so much that colleagues nicknamed her favorite shade "President's Red," one person familiar with the company said.
Ms. McCoy, a chemical engineer by training, doesn't have a shade of lipstick nicknamed for her and she is swinging the company the other way.
The new CEO has pushed Avon to think more broadly about beauty. In her view that has meant selling items that make a woman or her home more attractive, including jewelry, clothes and shoes—but also more colorful vegetable peelers.
Ms. McCoy wants nonbeauty products like an all-in-one strawberry slicer and huller and a "chocolate-shimmer collection" of costume jewelry to account for up to 50% of Avon's sales in the U.S., up from about 40% in recent years. The approach takes advantage of how consumers world-wide still enjoy lingering over Avon's catalogs, which appear once or twice a month depending on the country. It also is aimed at helping retain representatives by giving them something to sell when customers don't need more makeup, as well as to help Avon cash in on big retail periods like the holidays.
"If you haven't run out of Anew skin care, the representative can say, 'Well, here's a beautiful thing,' a holiday candle or something you can use," Ms. McCoy said.
Added complexity
The risk is that expanding the range of products will add complexity to outdated back office operations and expose the company to unpredictable trends. Avon paid $650 million for jewelry company Silpada in 2010—then dumped it for $85 million three years later after its designs didn't sell.
Snowman toys seem particularly vexing. In 2003, Avon missed its quarterly sales targets largely because of problems fulfilling orders for a singing Frosty the Snowman doll. Last Christmas, Avon had so much success selling a glowing Olaf doll, the humorous snowman in Disney's "Frozen" movie, that executives fretted about how they will match its sales during this year's holiday season.
"Selling these kinds of things isn't a strategy, it's a one-off gain," a former Avon executive said. "How are you going repeat that success year to year?"
Avon says it is equally excited for its holiday plans this year.
[For decades, 'Avon Ladies' have sold the company's products directly.]
For decades, 'Avon Ladies' have sold the company's products directly. PHOTO: DENVER POST/GETTY IMAGES
Daryn DeZengotita, a former Avon representative from Dallas who appeared in the company's 2009 Super Bowl ad, said one of the first lessons she taught the 160 or so representatives she recruited was how to apologize to customers for items that were out of stock. She even encouraged them to avoid selling products like dolls, because the items would probably never arrive.
"It is so embarrassing when products don't come," she said. "You're letting down your friends and family."
Avon's attempt to get a grip on its inventory problems backfired when a new order management system failed with the company's representatives. Avon tested the system in Canada in 2013, but the disruption was so great it scrapped it and ultimately swallowed a $117 million charge.
"We did too much too fast," Ms. McCoy said in a late March speech. "We alienated a portion of our representatives."
The broader direct-selling industry remains lucrative, rising 3.2% to $142.6 billion in global sales last year. Avon had been the world's biggest direct seller by sales until 2014, when it was unseated by Amway, according to data from consumer industry tracker Euromonitor International.
Avon competitors like Mary Kay Inc. appear to be faring better, analysts say, in part because their cosmetics cost more. "With Mary Kay, the demographic of the representative and the customer are more affluent," says Bill Schmitz, a Deutsche Bank analyst.
During the recession, Avon's sales ranks swelled as unemployment rose. But now they are shrinking. Ms. DeZengotita sold Avon for 10 years in Dallas, ultimately setting up two Avon retail outlets, and often reached around $1 million in annual sales with her team. She won vacations, cash and accolades for her achievements. But she quit five years ago mostly out of frustration with the company's poor compensation.
"Do you know how many $1.99 lip glosses you have to sell to reach $1 million?" Ms. DeZengotita said. After leaving Avon, she sold the 10-seat pontoon boat she had bought with her Avon earnings and named "Lots of Lipstick."
To turn around Avon's North American business, Ms. McCoy hired Pablo Muñoz, a 20-year veteran of rival Tupperware Brands Corp.Early in his nearly two-year tenure, Mr. Muñoz tried signing up as a representative at Avon and seven of its competitors. It took him 2½ days to wade through Avon's lengthy registration process and website kinks, compared with an average of 15 minutes to sign up with competitors.
Would-be Avon representatives had to complete a lengthy questionnaire, often re-entering basic information like their name and contact information. Then, candidates had to wait for an Avon employee to contact them to complete the registration.
"We make it very hard for representatives to join Avon, and we make it way too easy for them to leave," Mr. Muñoz said in an interview last month. "We're in the process of turning all of that around."
His team simplified the online forms that a prospective representative has to complete. Today, Avon promises the process takes less than five minutes.
"We caught up very quickly online and are now highly engaged on social media," the Avon spokeswoman said.
Mr. Muñoz also decided that raising the price of joining Avon would help with retention, too, by ensuring only committed candidates sign up. Today's base registration price is $15, up from the longtime fee of $10. He also added higher membership price tiers, including a $100 deluxe kit that includes more than $300 worth of products to sell right away.
ENLARGE
It isn't a new idea. About a decade ago, Avon created a new classification of sales representative called beauty advisers. In exchange for buying more samples, they got more extensive sign-up kits and training. Their ranks grew to several thousand but never hit critical mass, in part because the company didn't want higher sign-up costs to shut out aspiring applicants, a person familiar with the matter said.
The company says the average order size in North America in the most recent quarter is up 5% over the year before and claims the North American business is on track to be profitable this year for the first time since 2011. Yet U.S. representative ranks are still declining, a trend that Ms. McCoy warned would continue this year, though at a slower rate.
Ms. Frias, the Avon representative from Bogota, N.J., has built a selling team of about 155 sales representatives over her 11 years with the company. In a good year, the team sells close to $1 million, which has brought Ms. Frias earnings and honors from Avon, including a $2,500 bonus that served as the down payment for her car. Ms. Frias wouldn't share details of her income but said she earns about as much with Avon as she would as an administrative assistant, but with a more flexible schedule.
Ms. Frias says the most lucrative recruiting ground to expand her business is her local unemployment office. Every month, Ms. Frias offers job interview fashion and beauty advice, including how to achieve a full face of makeup using less than $10 worth of Avon products. Her demonstration includes how a $4.99, four-color palette of eye shadow can enhance eyes and serve as eyeliner and brow color. A $2.99 blush offers shimmer for the face and can lend color to Avon's 89-cent mini lip gloss.
For $7.99 more, Ms. Frias offers a coordinated Avon set of earrings, bracelet and a necklace. She also tells her audience, mostly unemployed mothers, about the earnings opportunity she found in Avon.
"When they see me, they can relate—I tell them 'I'm a mom just like you, I'm a wife, I have bills, and yet I can do this within my time,' " Ms. Frias said. "That motivates them to think, 'If she could do it, I could do it.' "
Ms. McCoy, and Ms. Jung before her, have a strong emotional attachment to those women, which has made it hard for the company to consider the U.S. exit advocated by some Wall Street analysts even as its performance floundered. The new strategic review could force some hard choices.
Avon's repeated quarterly losses have prompted Ms. McCoy to issue frank apologies on earnings calls for falling short of Wall Street's expectations and her own projections. Avon's next earnings update comes on Thursday. To keep herself going through such difficulties, Ms. McCoy says she remembers the many women around the world who rely on Avon for their livelihood.
"If I'm having a bad day, I think about the voice of one of the representatives whom I've met with and how they tell me what Avon has done for them," Ms. McCoy says. "I feel extremely responsible."