Epicure Registered $50 Million In Retail Sales For 2014
April 18, 2015
By Nicole Dunkley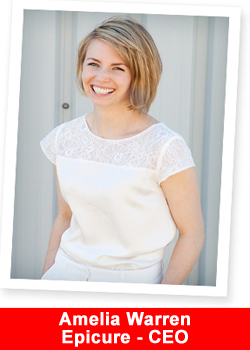 Epicure, Canada's fastest-growing party plan company just might be Vancouver Island's best-kept secret — well, until now. Epicure CEO Amelia Warren, in Vancouver last week to promote her burgeoning women-led clean food company, was all smiles sharing the "overnight success story" that actually began in the 1990s with lots of elbow grease and little fanfare.
Last year, the self-proclaimed "ambassadors of good food" registered $50 million in retail sales thanks, in part, to a trending back-to-the-kitchen movement, social media and a national sales force of 15,000-plus.
"My mother has always promoted healthy living. She insists if you want to eat healthy you have to cook so you'll know exactly what's in your food … and cutting out the liberal amounts of fat, sugar and salt you see in the convenience food industry," said Warren. "So, as it's turned out, mother does know best."
Her mother, Sylvie Rochette, is founder and president of Epicure, a B.C.-based company that is committed to good food made real fast.
"A lot of companies talk about being healthy, but my mom has always backed that up. In the beginning she sold her spice blends from her station wagon at all the farmers' markets and trade shows at home, plus she tested her favourite pre-blended recipes with the locals," said Warren.
"She had a dream and a definite vision. After we decided to go to direct sales in 1997, the business just took off. My mother is an exceptional entrepreneur. We went from $300,000 to $1 million in sales that first year and it hasn't slowed down since. Our business strategy and the timing were both bang-on."
Warren, who became Epicure's CEO in 2009 at age 24, pointed to the growing number of cooking shows and food networks as confirmation of the rising popularity in homemade meals.
"I really think it's a myth that going out to eat saves time. It might be convenient, and it's certainly tempting, but I believe we have healthier options for time-starved people.
"And with more and more people watching their money these days, it's certainly budget-friendly, too. Epicure helps you make affordable and delicious raw-to-ready meals in 20 minutes or less."
Epicure, which has more than 300 gluten- and nut-free food products, plus cookware and recipes, is aiming to hit the $100-million sales mark in the next few years.
"That means lots of home tasting parties and lots of cooking demos," said Warren, who added that Epicure's customer count exceeded four million last year. "We believe if you taste our quality food, you'll love it. And with our consultants personally teaching you how to prepare the meals helps with the sustainability of eating healthy.
"We believe everything is good in moderation, including moderation," laughed Warren.
Epicure's head office in North Saanich employs 175 people, not counting consultants. And since 2007 the company has donated more than $500,000 to organizations across the country.
"There is lots of opportunity to expand," said Warren. "We have very stringent guidelines with our ingredients and standards, so as long as that's not compromised we can continue to expand our products and customer base.
"We're obviously keeping an eye on the American dollar as it has an impact on our ingredient costs and supply chain, but like every other company you adjust accordingly."