Melaleuca CEO Wins Prestigious Award
April 13, 2015
By Tina Williams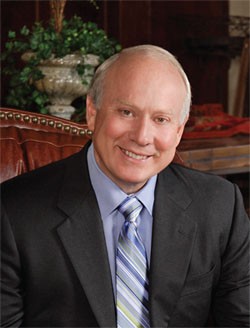 Melaleuca CEO Frank L. Vandersloot, will receive the prestigious Horatio Alger award this weekend during a ceremony in the nation's capitol.
The Horatio Alger Association of Distinguished Americans, is a nonprofit educational organization honoring the achievements of outstanding individuals. The group also encourages youth to pursue their dreams through higher education. VanderSloot joins eleven other accomplished business and civic leaders from across North America in receiving the award this year.
Since its establishment in 1947, the Horatio Alger Award is annually bestowed upon renowned leaders who have succeeded despite facing adversity, and who are committed to philanthropy and higher education.
VanderSloot grew up on an 80-acre farm in northern Idaho. He took on a series of odd jobs as an adolescent, and saved his money to be able to pay his own way through college. VanderSloot attended Brigham Young University and graduated with a degree in business administration.
In 1985, VanderSloot founded Melaleuca, a health and wellness products manufacturer. Today, the company boasts $1.2 billion in annual revenue, 3,400 employees and has expanded to 18 countries. Under VanderSloots's leadership, Melaleuca has been listed on the Inc. 500 list of fastest growing companies in America five times and was inducted into the Inc. 500 Hall of Fame.
"The accomplishments of Mr. VanderSloot are remarkable in and of themselves," said Tony Novelly, president and CEO, Horatio Alger Association and 2000 Horatio Alger Award recipient. "But when you see the incredible work ethic, perseverance and entrepreneurial spirit needed to achieve such outstanding success, it truly inspires – and it truly reflects the principles of Horatio Alger."
In accepting this honor, VanderSloot said, "To be selected as a Member of Horatio Alger Association is a wonderful honor. But I know that I do not measure up to the great men and women who have previously received this award. They have amazing stories. I am a great believer in free enterprise. I am grateful to be born in a country where hard work is rewarded and there is opportunity for everyone who throws their heart into making the world a better place. Growing up, I learned that you don't need much in material things to be happy, but I have also learned that having resources can enable you to make a great difference in people's lives. I am excited to join an organization that honors the spirit of American ingenuity and helps nurture it in future generations. I look forward to supporting Horatio Alger and its Scholars in any way that I can."