Melaleuca Changing Comp Plan For Executives
June 5, 2014
By Tina Williams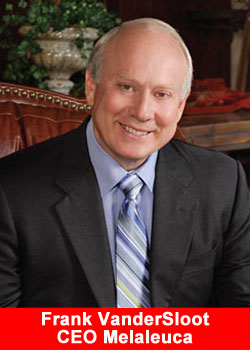 A new compensation plan for Melaleuca will bring hundreds of jobs to eastern Idaho, according to CEO Frank VanderSloot.
VanderSloot said the new compensation plan will pay its marketing executives several million more in total compensation each year. He also said he expects the company's growth to increase dramatically because of the new compensation formula.
The formula will bring more manufacturing jobs, research and development, accounting and much more.
Now is the best time for anyone to become involved in Melaleuca. It is easier to build a business todayand it's faster to build a business today. There are more tools and products and a more lucrative compensation program where people are coming on board with us and experiencing a tremendous amount of success, VanderSloot said.