Total Life Changes Recognizes Their Top Earners
April 21, 2015
By Nicole Dunkley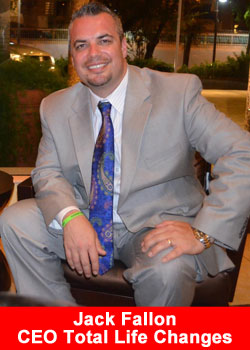 The first wave of financial freedom can be seen on the faces of TLC's elite leaders that launched their business in Total Life Changes within the past 16 months.
The vision and the foundation was prepared by V.P. Kenny Lloyd and carried out by a team of dedicated IBO's that had a history of success in the MLM industry. Now they are capitalizing on the benefits of their teamwork and dedication toward creating one consistent message to the field; each of these leaders is now earning $100,000 a month or more as a result.
"We're so proud to be a part of this movement and the momentum that continues to improve every single day. My wife & I just purchased our dream home, in cash, because of our decision to join Total Life Changes. What we have accomplished in such a short amount of time is really amazing.
You know, when I look back at all of the hard work that my wife and I, Erwin and Twiler Portis and of course, the Lloyds have poured into this, and to see this growth in the company, and now to finally be able to pay for a beautiful home in cash, it's just an incredible feeling. Now we are looking ahead to sustain this growth while introducing a completely new product to the market," explains Executive Ambassador Gregg Scott.
Chante Lloyd has recently taken on the task of training distributors how to host a home party and successfully measure and fit women for the newly released Beautiful You shape wear garments. She has hosted teleconferences and will soon be involved in video production to provide even more accurate tools for distributors to utilize when selling these incredible garments.
"I am just so grateful to be a part of Total Life Changes. When Kenny and I first joined, we discussed our success in another company that marketed shape wear garments.
I explained to TLC's founder and CEO Jack Fallon the potential to introduce a garment line. Kenny and I had a great deal of success in a former company marketing garments and I have a wealth of information to share with the field. I'm so excited right now, we waited so long to get the garments manufactured and shipped and now they are finally available, so I am on a crusade to impact the field with the knowledge and skill set to promote the Beautiful You shape wear garments," says Executive Ambassador Chante Lloyd.
I don't think any of us are surprised, but rather we really feel rewarded for all of the time and hard work that we put in place. My husband Erwin and I work very closely with our downline and really make ourselves available to help them grow.
I spend a great deal of time coaching distributors on how to host a successful home party. So much of our business is based on personal relationships and I have found a niche that I really enjoy, and I can tell you that the number of home party kits sold continues to rise steadily as a direct result,' says Executive Ambassador, Twiler Portis.
The vision that has been implemented within the field is truly impacting peoples' lives. Newly recognized Ambassadors, William and Denise Lee are a true testament to that; after hesitating to get started with TLC for six months, Denise Lee started to recognize some growth in her back office without really promoting her business.
She and her husband decided to give MLM one more opportunity. "I truly feel blessed to be a part of TLC. My husband and I have been able to build a very strong team in a very short period of time. Now, I have recently retired from health care and we're working on getting William to retire soon too. The residual income that we are experiencing is incredible. We're earning well over $100,000 a month."
Home-based businesses tend to be dominated by women. Statistics indicate that 82 percent of women in the United States who make $100,000 a year or more accomplished it through direct sales. Total Life Changes is a vehicle for entrepreneurs, stay-at-home mothers, and spouses for earning a residual income while impacting peoples' lives promoting enriched health and a lifestyle focused on improving overall wellness.
Stormy Wellington, Nina Moorer and Bonita Lee serve as three examples of successful young women that are earning a substantial amount of money on a monthly basis. Combined, these three independent business owners yield over a million dollars a month in revenue. And all of this has been accomplished in less than 12 months for each of them respectively.
Coming from humble beginnings, Stormy Wellington started her journey at a young age. Stormy's upbringing taught her strength, resilience and determination. In 2008, Wellington decided that failure was not an option. She decided to uproot her family and relocate to Atlanta, GA with only a $135.00 worth of loose change. This high school drop out with only a G.E.D. quickly went from $13 an hour to earning over $1.2 million in one year.
In the past few years, Wellington has dealt with many ups and downs and peeks and valleys, which she writes about in several of her books. This Miami native, mother of three daughters and businesswoman often reflects on the day she prayed and promised God that if he helped her she would help his people. She now travels the world transforming minds, bodies, an bank accounts with her new movement: to help 1,000 families make six figures in 2015. She says daily, "Not will I do it, but who will those families be?" Wellington lives by her abiding faith in God and Belief in herself.
Born and raised in North Philadelphia, Pennsylvania, Bonita Lee-McClain, 29, a mother of 3 girls, a wife, and co-owner of her family business, "Lee Monument" (that specializes in headstones and memorial products).
As a stay at home mother, Bonita found the time to study at Eastern University and graduated with a degree in Business. Like most families, Bonita started to experience financial hardship, she started looking to find ways to make additional income.
Being that optimistic person with a desire to impact lives, Total Life Changes, has found it's way to change hers! With the product Iaso™ Tea, a natural dietary supplement that she faithfully uses herself, has physically, spiritually, and subsequently financially graced her. Bonita says, "My goal is to make a difference in the world one person at a time, to show them they are more than they thought they could ever be. Total Life Changes has been a vehicle that is helping me accomplish this goal. The business has changed my family's life in just 5 short months."
Bonita Lee joined Total Life Changes in September 2014. By Christmas time she had made plenty of progress in building her business. She continued to share the vision in her area and in just over six months, she is now a Global Director for TLC. The financial freedom has completely changed her life. Bonita and her husband, Hasan are now able to offer their children opportunities to explore their interests; whether it is sports, music or dance, their children now have a chance to experience any and all of these activities without the feeling of guilt.
In the middle of the night on August 13, 2014, Nina called her husband Paul Moorer at work to say that she heard the voice of the Lord. "The time is now, your change is here." After hearing those words, Nina found a post on Facebook by National Director, Denise Lee.
The post stated that Denise lost seven pounds in 10 days. Nina was looking to shed some weight shortly after delivering her daughter Paige in May 2014. She soon became intrigued by the company's name, Total Life Changes. Something leaped in her spirit and she knew that this was the change that God was speaking about. Nina left a message for Denise Lee, but did the research herself because she just couldn't sleep. Paul said, "Ok, we can do this." But it was with hesitation because he had not seen others becoming successful in Network Marketing in the past.
The young couple took a leap of faith and joined on August 16, 2014 with their first two partners right behind them. On that same day they had conference call with Executive Ambassadors Gregg and Lenika Scott, who discussed the compensation plan in detail. This fired Nina up all the more and she set out to ensure her husband that this was it!
Their team began to grow rapidly and they were fully invested. Paul's mindset quickly changed as they both began to lose steady weight and the checks started rolling in, along with the Iaso™ Tea that is being heavily sought after. They never imagined things could move so swiftly; hitting Director in six weeks, Executive Director four weeks later, and Regional Director in just two short weeks after that. Paul and Nina Moorer are now enjoying over $100,000 a month as Global Directors for Total Life Changes.
These young women and their spouses are setting the pace for continued growth within Total Life Changes. They serve as tremendous examples of how lucrative network marketing and direct sales can be. "The youth that is entering into network marketing and into our own company is very exciting. We are embracing it. We must embrace it. But we have to be careful that they are getting the right message. We have a theme within Total Life Changes. We want to be sure that not only these young networkers, but also all of our IBO's are delivering one consistent message to the field. That is going to be very important as we manage all of this growth," V.P. Kenny Lloyd explains.
| | | |
| --- | --- | --- |
| | | |
| | | |