Zija International Distributor Team Quickly Finding Success
April 29, 2015
By Nicole Dunkley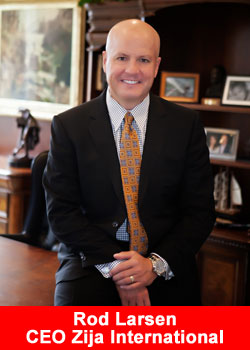 As Zija International continues to grow at a steady and successful pace, the company is attracting more and more Distributors who are driven by the success they are repeatedly finding.
One team of Distributors has been quickly reaching top Ranks in the company's compensation plan. Read about their Zija journeys in their own words below:
Leroy Keim – Platinum
"What drew me to Zija was that I had read an article about the Moringa oleifera tree 10 years before I even learned of the company! I always knew good nutrition was important for our everyday health, so when I realized Zija has all those nutrients that our body needs I started consuming it as well as giving it to my family of eight children. At first I wasn't going to put any effort into growing my own personal Zija business, but soon I had gotten a few people started on the great products and it grew steadily for almost two years before I realized the business and opportunity I had created!
I started doing some personal development and, with what this has done for my family's health, I knew I had to get more involved. I made a commitment the first of January 2015 to step out in faith and go at it full-time and have been able to find the success I was after."
Barbara Troyer – Double Diamond
"I had a lot of respect for the person that showed the Zija opportunity to me as well as for Ken Brailsford, the Founder of the company. He had an impressive track record in both the nutrition and business worlds. I realized that if Mr. Brailsford had come out of retirement to start Zija, all due to the Moringa oleifera plant, there must be something truly amazing that this botanical possesses.
Zija's company mantra, Life Unlimited, means FREEDOM to me. I get to choose when I work, where I work, and with whom I work! A huge added benefit is that I get to help people feel better and become financially free; it's a very rewarding company to be a part of. I come from an Amish, conservative background. I have eight grades of education, no high school, no college, and had a horse and buggy for transportation! I would say if I can find success with this Zija opportunity, anybody can with the right desire, company, leadership, and mentorship!"
Jonas Troyer – Double Diamond
"I've always known that the network marketing industry works, I just didn't believe I could do it. Just over two years ago I was introduced to Zija and their Moringa products. I have seen fairly quickly how well the products work and how easy they are to share with others.
My biggest challenge was personal development, but once I truly understood what personal development was, I started embracing it and implementing it into my business. Today my philosophy is to develop leaders and create a culture of success that will attract others in following our lead. I know if I help those new people that just got started become successful, and teach them what I know, they can be successful too."
Emanuel Borntreger – Platinum
"I grew up Amish for the first 18 years of my life. From the age of 13 to 18 I worked for my parents, bringing home around $400 a week, which I never saw a penny of because we couldn't have our own money until we were 18 or married. At the age of 18 I left home with not a penny to my name and went out into the real world. I started working a traditional job for a farmer, doing something I knew how to do. For the next 18 years I worked building someone else's dream.
I was in the road construction industry for 14 years when I was let go in November 2013. When a good friend of mine heard I lost my job, he got ahold of me and asked if I was interested in owning my own business; the answer was an absolute yes! The next day he came to my house and introduced me to Zija International. I jumped onboard that same day, even though I didn't have a clue about the opportunity I was getting myself into. But, because I could see where my good friend Amos was heading in life, I knew I wanted to be a part of it too. I had never heard of network marketing before, but when I saw what the Zija products were doing for my family and heard what it was doing for others, I couldn't help but go out and share it!
In January 2014 I was fully committed to the business side of Zija and by February of 2015 I became Zija Team (Mercedes) Benz qualifier and a Platinum Rank in the same Period!
Why Zija? Because of Kenneth Brailsford, the company's Founder, and his track record, the corporate staff, and the Zija products—which truly do speak for themselves. I am truly blessed to be a part of this amazing company. I feel like I was at the right place at the right time, with the right company. I have big dreams and goals with this company for my family, and along the way I am helping others achieve their dreams and goals. I have learned in this business that you have to be coachable and willing to learn. The day you stop learning and developing yourself is the day your business stops growing. Living Zija's Life Unlimited mantra and having financial freedom is where it's at. I would like to give a huge shout out to everyone that believed in me and has been a part of my journey up to this point; thank you all and God bless!"
About Zija International
Zija International, a privately held and privately funded business founded by Kenneth E. Brailsford and run by Rodney Larsen, develops natural health, wellness, nutrition and fitness products. The company operates in more than 50 countries worldwide.
Zija has seen consistent growth every year since it was founded over 9 years ago and was recently named the "Fastest-Growing Company in Utah" by Utah Business Magazine. It has also been recognized on fastest-growing and top-revenue lists by Inc. Magazine, Direct Selling News, and Utah Valley Magazine, to name a few.
With corporate offices located in Lehi and more than 4 million sq. ft. of state-of-the-art warehouse, shipping and manufacturing facilities located in Utah, United States, Zija International employs more than 200 individuals and has the capacity to grow to more than two billion dollars in annual sales.