ACN's Annual Revenue Exceeds $800 Million
May 6, 2015
By Nicole Dunkley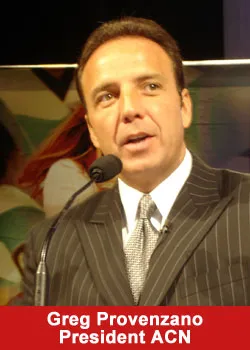 ACN, Inc. was recently named the 22nd largest direct selling company in the world in 2014 as part of the Direct Selling News Global 100. ACN also ranked 11th nationally and 10th for privately held companies.
ACN's annual revenues of more than $800 million and growing helped secure the company's 22nd ranking, while they continue to be the largest overall direct seller of telecommunications, energy and essential services for home and business in the world.
The Global 100 List was announced on April 8, 2015 in Dallas, TX. ACN Co-Founders and Executives were present at the awards ceremony to accept this incredible honor.
"Being recognized among an elite class of Direct Sellers is an incredible honor," said ACN President and Co-Founder Greg Provenzano. "However, our focus was never on being the biggest. Instead, our focus is and always will be on being the best – providing the best services for our customers and the absolute best business opportunity for our Independent Business Owners. That's how we measure success."
The Direct Selling News Global 100 includes public and private companies from 16 countries on 5 different continents. Its aim through compiling the list is to recognize the world's top direct selling companies and to shed light on the great opportunity surrounding the direct selling industry. The ranking is compiled based on revenue, but the companies listed are known for what they give back to their communities as well.
About ACN
Founded in 1993, ACN is the world's largest direct seller of telecommunications, energy, and other essential services for residential and business customers. ACN provides the services people need and use every day including phone service, wireless, energy, merchant services, television, security and automation and High Speed Internet. ACN operates in 24 countries with offices located throughout North America, Latin America, Europe, Asia and the Pacific. For information on ACN's home-based business opportunity, visit www.acninc.com.