Amway Sees Aging Society As Biz Opportunity
May 20, 2015
By Tina Williams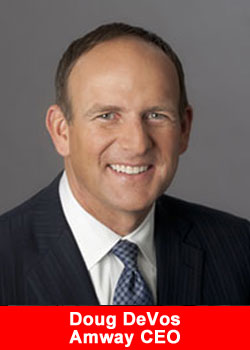 U.S. direct-selling company Amway has found further room for growth in Korea as per-head sales of its health supplement products topped other countries last year, the company founder's son said Sunday.
In an interview with Korean journalists in Beijing, Sam Rehnborg, president of Nutrilite Health Institute, wholly owned by Amway, said as Korea was one of the world's fastest-aging societies, the demand for health supplements was set to rise in coming decades.
China is a huge market compared to Korea, he told The Korea Times after the group interview. In terms of sales per capita, however, Korea is already a benchmark for our less-developed markets due to Amway Korea's powerful method of marketing, referred to in some U.S. universities as social marketing. It helped the market in Korea to another level.
To explain what social marketing is, he said, People buy a product from you not because of all you say about it, but because they look at you and they see something different. It's just like buying a golf club. If the golf club proves it hits 20 yards farther, it is a most powerful method of marketing. It is different from consumer marketing, which requires a lot of money on ads and sales staff to sell the products off the shelves.
Amway Korea posted 1.023 trillion won ($937 billion) in sales last year, accounting for 8.8 percent of the U.S. direct seller's overall sales, worth 11.581 trillion won. Amway Korea's sales last year rose 3.5 percent from a year earlier, according to data from Amway Korea.
Amway and its Korean operations earned more than 40 percent of their respective sales last year from health supplements, which are sold under the Nutrilite brand, the data showed.
In accelerating its drive to expand in Asia, Amway is in the middle of building a botanical research center in Wuxi, Jiangsu. It will be Amway's first farming and research facility in Asia, the president said.
Amway has a laboratory in Shanghai to study local herbal ingredients and a production facility in Gwangzhou, which processes herbal ingredients bought in China and the U.S. into Nutrilite products. But it does have a farm there. Its main factory for its flagship Nutrilite products is in the state of Washington.
We wanted to have a botanical research center in this part of the world to study traditional Chinese herbal products that have unique preventive properties, said Sam, who is the son of Nutrilite founder Carl Rehnborg.
Amway Product Development Director David Groh said the other reason they were in Wuxi is that they had plans for more than just China.
What we are trying to do is once we understand and identify a traditional medicine which has value, we figure out how to grow it, manufacture it and scale it up so we can produce traditional Chinese medicines or TCMs, Groh said. We can just go and buy TCM raw materials from suppliers. We need to develop them to our farming practices and Nutrilite standards. Wuxi will help do that.
Amway plans to complete its supply chain in China, from planting raw materials and manufacturing TCMs to their packaging, to meet the growing demand in local and global markets. But it did not provide a time frame.
Amway has more than half its global sales in Asia. It began direct-sale operations in Korea in May 1991.