Medifast Projects $74 Million Revenues in Q2
May 19, 2015
By Team Business For Home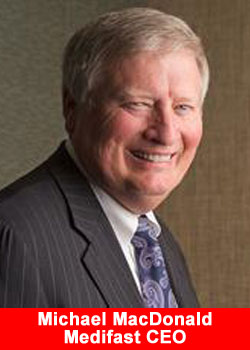 Weight-loss and healthy living products company Medifast that recently announced first quarter financial results is expecting a strong second half.
We felt very good about where we ended up the first quarter and we're projecting $0.47 in earnings in the second quarter even though we anticipate that our average advertising spend will be higher going forward, MacDonald says.
The consensus estimate of many analysts is for the company to earn $0.45 a share in its second quarter. On the top line, Medifast said it expects revenue to be $72 million to $74 million, above the Wall Street forecast of $71 million.
In order to hit its second-quarter targets, MacDonald is counting on a turnaround in the company's direct sales channel, which experienced a revenue decrease of 9% to $52.1 million in 2015's first quarter compared with $57.0 million last year.
We've been building our network of health coaches back. We had lost about 1,000 coaches in 2014, MacDonald says. We have a process now to increase our recruiting and sponsoring in our health coach channel.
Medifast ended the first quarter with about 10,500 active health coaches and the revenue per health coach on average each month was just $1,564 compared with $1,626 in the first quarter of 2014.
The company's direct channel revenue decreased 16% to $14.4 million in the first quarter compared with $17.1 million in the prior year. MacDonald anticipates improvement in that area, however. We are getting good retention results once people enter the program and we are seeing that as a strong opportunity for us, he says.
At Medifast's 70 weight control centers, revenue increased 31% to $4.7 million in the first quarter from $3.6 million last year. You get the most weight loss in a franchise center, MacDonald claims. Our franchisees are experienced professionals.
Finally, MacDonald says the recent health wristband craze, that encompasses the Apple Watch, will complement Medifast's products not compete with them.
Our food causes your weight loss, MacDonald says. We don't see that competing with us because we are not a meeting model.