Total Life Changes Appoints VP Of South America Sales
May 18, 2015
By Nicole Dunkley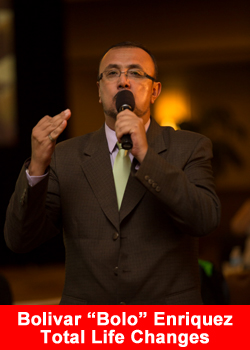 Total Life Changes appoints Bolivar "Bolo" Enriquez as vice president of South America Sales. Bolo has been extremely focused on building stronger sales in South America. In 2014, Colombia alone reached sales in excess of two million dollars and the first quarter of 2015 is doubling its sales.
"I am very proud to announce that this very same office has increased sales by fifty percent in the first quarter of 2015.
The business is exploding in Central and South America. The products and the business opportunity are helping so many families get healthy and providing a supplemental income so that they can lead a greater life, while providing more opportunities for their families," Bolo explained.
Bolo began his career with Total Life Changes in November of 2011 under the direction of TLC President, Armand Puyolt in California. At this time his focus was producing marketing videos for TLC's Hispanic market. He was soon recognized as an extremely knowledgeable asset to the company and was asked to travel to Ecuador to open an office.
Between 2012 and 2015, Bolo has opened offices in fourteen countries including Peru, Bolivia, Curacao, and Dominican Republic. "I am very proud to be a part of TLC and of course I'm so very pleased to be appointed as the Vice President of Sales in South America," stated Bolo.
The commitment that Bolo has made to spread the TLC business opportunity in Central and South America is astounding. He has accounted for over two hundred leadership conferences during his tenure with the company.
His presence at weekly "Super Sabado's" has been a blessing to the growth in the company and the understanding of TLC's vision for building a culture of entrepreneurs that are focused on improving the health and well being of others. He also produced and coordinated the first TLC International convention this past February 2015 in Bogota, Colombia. Total Life Changes UNO International Corporate Event was held at the J.W. Marriott Hotel.
Over 500 guests representing twelve different Latin American countries arrived early to a Friday evening Mix & Mingle with TLC's corporate staff from its Michigan headquarters. Representatives from each country's office had an opportunity to welcome all of the guests and express their excitement for Saturday's UNO event, which included personal development training, music and dancing, followed by and an evening of recognition for South America's top earners.
"I don't know that words alone can express my gratitude for what Bolo has meant to TLC. Bolo and I have developed an incredible friendship and a very strong business relationship. He makes my job so much easier because he is so passionate and knowledgeable about our products, our compensation plan and our overall vision.
We plan to market our brand of products in every household in the world," says TLC founder and CEO Jack Fallon. His accomplishments continue to inspire TLC affiliates throughout Latin America. He has acted as a mentor to countless men and women looking to create a business to improve their quality of life. Bolo's attitude and approach to the business is what makes lasting impressions on everyone he encounters.
Bolo's final thoughts:
"I am deeply proud and honored to be a part of the TLC team. I believe in the dream and in Jack Fallon's vision. This company has given me the opportunity to grow personally and professionally, and what is most important; TLC has given me the opportunity to help others to reach their goals and dreams. This is just the beginning; the best is yet to come, starting with our next International corporate event: UNO 2 in Lima, Peru this November 13th-14th. "
Total Life Changes offers an amazing line of health and beauty products along with a great business opportunity. TLC was created by CEO Jack Fallon over 15 years ago with a single product, Nutraburst, and has grown to include our Iaso™ brand of products like our popular Iaso™ Tea. Our hybrid binary system allows IBO's of TLC to quickly be compensated for introducing new reps to our products and business opportunity. The opportunity for you to feel healthier and flourish financially is what TLC is all about!
Join us in Atlanta this July to see it for yourself.