Total Life Changes National Director Exceeds $100k Earnings
May 27, 2015
By Nicole Dunkley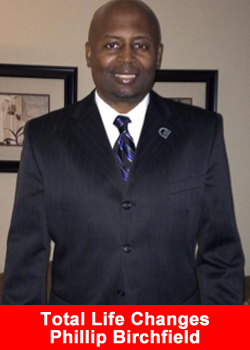 The Network Marketing industry is a powerful, global entity that reaches nations nobody could have predicted. The overall trend in MLM success stories is clearly on the rise as ambitious entrepreneurs are looking for companies with valuable products that work and compensation plans that offer more than one way to build immediate and residual income. For many networkers this takes decades to achieve the right fit.
Total Life Changes National Director, Phillip Birchfield has found "The Truth" with TLC. Phillip has invested more than twenty years in the MLM industry with several different companies and teams with well over one hundred members, but was unable to capitalize on building meaningful residual wealth. Birchfield is now celebrating his one-year anniversary with Total Life Changes as well as the success of his team of over 4,500 people.
"I saw my first MLM presentation over twenty years ago. I was told that if I share the opportunity, build a team, and gather some customers, that I could build residual wealth. Well, several companies and more than twenty years later, I have finally found the truth with Total Life Changes. I am just blown away by what TLC has done for me. I have built a team of over 4,500 people; over 2,100 on each leg, and this is without any spillover. I have earned over $100,000 dollars within my first 12 months with TLC. This team has more than ten people who have made more than $1,000 in a week's time. I feel that I am the story of what TLC stands for. This company will give anyone the chance to live their dreams. You see, it is the result of hard work. I did not bring hundreds of people over to this business with me. I had one person join me on my very first day; and then about five during my first week."
You can find Phillip Birchfield most often on Facebook as he documents his business and his weight loss transformation. "I am a product of the product. I have dropped over 40 pounds on TLC's products. People get me confused with an Internet marketer all of the time. I don't have the skills to be that, but I do market on the Internet. There is a big difference. The good thing is that we all can market on the Internet, even if we can't be an Internet marketer. I thank TLC for being the truth and for being a company with wonderful products that work. TLC has great leadership, a comp plan that pays, and an owner that has priced the product and the opportunity where anyone can change their life," adds Philip "Tea" Birchfield.
Total Life Changes continues to experience tremendous growth from its number of new affiliates to its monthly sales. This is a credit to the foundation that has been implemented for the past six years; through the selection of affordable products in three of the fastest growing industries worldwide: coffee, skin care and weight loss.
"I don't necessarily feel lucky. Most top earners in any industry didn't get there by luck. I really believe that the success Total Life Changes is having now is due to the ground work that was put in place over the past five to six years, in terms of product selection, creating partnerships with the right vendors and manufacturers and now allowing TLC President Armand Puyolt, Vice President of North America Sales, Kenny Lloyd and Vice President of South America Sales, Bolo Enriquez build and monitor the field. Each of them is so very talented and knowledgeable and willing to travel anywhere across the country and anywhere in the world to support our growth. I feel very blessed to have each of these men as a vital part of my corporate team," explains TLC founder and CEO Jack Fallon.
About Total Life Changes
Total Life Changes offers an amazing line of health and beauty products along with a great business opportunity. TLC was created by CEO Jack Fallon over 15 years ago with a single product, Nutraburst, and has grown to include our Iaso™ brand of products like our popular Iaso™ Tea. Our hybrid binary system allows IBO's of TLC to quickly be compensated for introducing new reps to our products and business opportunity. The opportunity for you to feel healthier and flourish financially is what TLC is all about!
Join us in Atlanta this July to see it for yourself.