Total Life Changes Pays Off for Stay-At-Home Mom
May 22, 2015
By Nicole Dunkley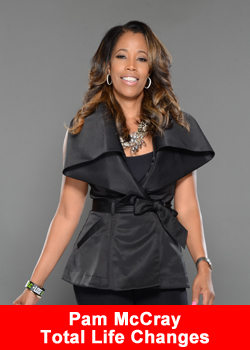 Twenty Years to Pay Dirt in the MLM Business. This stay-at-home mom has never given up. Can you imagine showing up to work every single day for twenty years and never earning a real paycheck? Well that's been the story of self-employed networker Pam McCray.
For the past 20 years, she has joined business after business, gone to meeting after meeting, attended conference after conference and wore the badge of honor for every company she's been connected to, but never found any consistent success.
"I have to admit, I've had a difficult time earning income and getting any acknowledgement of being a leader in the MLM industry. But I always had this belief that I would eventually win. I was one of those network-marketing babies who grew up with parents who believed in the industry from a young age.
I can still remember my parent's meetings and the home parties they did! Their excitement and belief in the industry rubbed off on me, and created a hunger inside of me to also become a Network Marketing Professional," explains McCray.
With a relentless drive to achieve in the industry, she has spent the past twenty years searching for the right opportunity that would position her to become a recognized leader in network marketing. She just didn't know when this opportunity might arise and which company would be the vehicle; but she knew that this industry had a way of taking average people and turning them into extraordinary success stories
Six months ago, the vision that Pam has held in her heart for the past twenty years was finally manifested when she said one simple word, YES! She nearly missed this opportunity while overlooking the simplicity of the product. McCray was approached by her friend and mentor, Global Director for Total Life Changes, Stormy Wellington. She introduced Pam to TLC's hero product, Iaso™ Tea.
"I took the bag and tossed it in my purse not even giving it a second thought. It wasn't until she came back to me and asked for it back that I remembered I had it, so in an effort to not give it back, I decided to give it a try," recalls McCray. In the following thirty-one days, Pam McCray lost twenty pounds.
"Not only did I lose the weight, but it's as if I lost all fears and resistance along with it. That little black bag became a miracle in my life that made me bolder and more confident than ever before, which boosted my income and quickly positioned me near the top of the charts in Total Life Changes," she adds.
Many believe that success in the MLM industry is all a matter of luck. Pam McCray is living proof that perseverance is your power to change. Twenty years of chasing dreams and never giving up and never giving in to her peer's negativity toward building a successful business in networking has finally paid off.
"I have been able to become a top earner with TLC, which is allowing me to empower others around the world to live the life of their dreams and experience financial freedom. As a Regional Diretor, I have essentially been able to compress what some dream to earn in a year into a five-figure weekly income," explains McCray.
Pam McCray is a stay-at-home mother of four and wife of Nate McCray. Her family is thankful for the freedom that network marketing has provided. The McCray's are now enjoying more financial freedom under the sunny skies of South Florida. Pam's goal is to help 1,000 families earn a six-figure income by the end of 2015: "You need to know that it is possible for anyone to build a residual income, live a healthier lifestyle, own a home where you want to live; do what you want to do, go where you want, and get to bless so many people.
I would like to thank Jack Fallon, CEO & Founder of TLC, for his vision, the leadership that is paving the way, my team and of course my husband Nate who believed in me when I didn't believe in myself. If you're serious, committed, coachable and teachable, now is the time to take action and begin to live the life of your dreams." You may contact Pam McCray via email: [email protected]
About Total Life Changes
Total Life Changes offers an amazing line of health and beauty products along with a great business opportunity. TLC was created by CEO Jack Fallon over 15 years ago with a single product, Nutraburst, and has grown to include our Iaso™ brand of products like our popular Iaso™ Tea.
Our hybrid binary system allows IBO's of TLC to quickly be compensated for introducing new reps to our products and business opportunity. The opportunity for you to feel healthier and flourish financially is what TLC is all about! Join us in Atlanta this July to see it for yourself.