LIMU Promoters Tommy & Linda Liles Surpass $1.5 Million
June 11, 2015
By Nicole Dunkley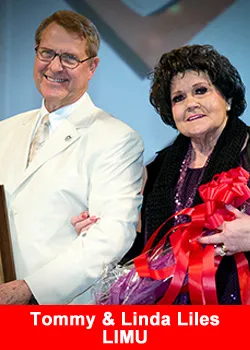 LIMU continues to celebrate members of its Millionaires Club, as Tommy & Linda Liles have recently surpassed $1.5 Million in earnings. Working with their team from their home base in Jonesboro, Louisiana, this retired couple is making the most of the unique LIMU opportunity.
"What Tommy and Linda have been able to do is truly remarkable," says Gary J. Raser, Founder, President and CEO of LIMU. "They are a story of perseverance, having come into the industry with no prior experience and building success even in retirement. This is exactly why people enter direct sales, to build true residual income no matter where they are in life. What a great example they set for our company and our industry."
Tommy and Linda raised their six daughters on first his salary as a teacher and coach, and then his own auto repair and tire business. Hard work never fazed Tommy but as he neared retirement, he realized his long years of labor hadn't left him with the savings he and Linda would need. So he joined LIMU, worked hand-in-hand with his team, and now is able to fully enjoy his retirement with no concerns about being able to afford whatever they need in life. At a time when many retired couples are forced to pinch pennies, Tommy and Linda now have the financial means to live comfortably while also helping family and friends do the same through LIMU.
"Our LIMU Experience has been incredible, especially since I can work our business regardless of where I am," says Mr. Tommy, as he is known. "Living in Louisiana all my life I've had three passions, my family, hunting and fishing. I'm blessed to be able to work with many members of my family in LIMU, with Linda enjoying her own hobbies of shopping and spoiling the grandkids. And because of the success we've found with the LIMU system, now I have all the time I want to hunt and fish, whenever I choose to. It's great that I can continue to build my team from anywhere, even from a duck blind or a fishing boat!"
About LIMU
Founded in 2004, and profitable and debt-free from day one, Gary J. Raser created LIMU to help struggling families change their financial futures and stop living paycheck to paycheck. Providing entrepreneurs with exclusive and proprietary Fucoidan-rich products made in the USA, this leading direct sales company also offers each person a unique opportunity to create their personal LIMU Experience and Be more. Award-winning branding and marketing materials support LIMU Promoters, and state-of-the-art technology platforms make it easy for Promoters to share the LIMU Experience and build strong global businesses. With over 1,200 independent, third-party, unsolicited studies on its super-nutrient Fucoidan – available on pubmed.gov – the company is the acknowledged category-creator and worldwide leader for LIMU products.
LIMU and the LIMU logo are registered trademarks of The LIMU Company, LLC in the U.S. and other countries.
For more information, please visit: www.thelimucompany,com and www.yopros.com
Follow LIMU on Facebook, Twitter, YouTube and Instagram:
https://www.facebook.com/LIMUco
https://youtube.com/LIMUcompany
https://www.instagram.com/theLIMUcompany
Source
LIMU