Medifast Shareholders Approve Board Overhaul
June 18, 2015
By Team Business For Home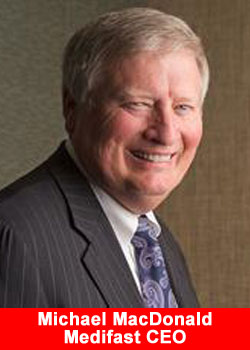 Medifast Inc. Chairman and CEO Michael MacDonald is optimistic after shareholders approved a major corporate governance shakeup at his Owings Mills weight loss company Wednesday.
Those changes, announced earlier this year at the behest of activist investor Glenn Welling, cut Medifast's board from 12 directors to nine and brought in five new directors— including Welling himself. They also had Medifast declassifying its board, a move that will require directors to stand for re-election every year instead of serving longer terms.
Medifast held an orientation meeting and dinner with its new directors Wednesday, having all of the company's managers review the business with them. Going forward, the company will refocus on its historic strength in direct selling — its direct-selling Take Shape for Life division accounts for 71 percent of revenue.
New directors like former Avon Products Inc. executive Scott Schlackman and Healthy Directions President Connie Hallquist will help it boost direct selling through health coaches, MacDonald said. He added that it's the first time Medifast's board has had such deep expertise in the field.
I was very pleased with the new directors, MacDonald said. They bring good skill sets. Two of the people come from the direct-selling industry.
Welling wanted to add direct-selling experience and boost profitability, he said when he prompted the changes earlier this year.
Medifast will also work to boost its direct-response channel and launch new products including bars and shakes in the future, MacDonald said. New products will come in the meal replacement category, but Medifast also wants to branch out into the sports nutrition area.
While the changes in board composition have been in focus, its declassification is also a big move. Cutting directors' terms to one year exposes them more to shareholders' whims, ramping up pressure. MacDonald said the move was probably overdue.
Clearly, more and more companies were moving in this direction, he said. I think we might have been a little behind in the sense we moved a little slower. Once I understood that and talked to our shareholders about it, I think it was the right move to make.