Morinda Celebrates 3rd Annual AGE Awareness Day
June 21, 2015
By Nicole Dunkley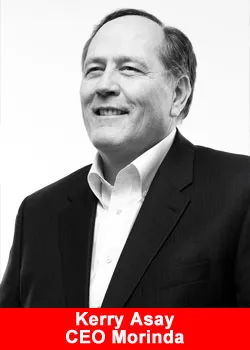 Morinda announced plans to celebrate the third annual AGE Awareness Day by offering free AGE health scans to the public in various locations around the world, including its corporate office in Provo, Utah.
AGE (advanced glycation end-product) Awareness Day, inaugurated in 2013 by the AGE Foundation, is an internationally recognized holiday which takes place on June 21. The purpose of the day is to increase awareness of AGEs and the harmful effect they have on the human body.
"AGE Awareness Day was launched on summer solstice – the longest day of the year – to symbolize how properly managing your AGEs can help you live younger, longer," said Morinda's Vice President of Marketing, Shon Whitney. "We know people are looking for ways to live healthy, vibrant lives, and the AGE conversation is an important topic that is being overlooked in today's health and wellness industry."
AGEs – harmful compounds that form in the body when excess sugars combine with protein – lead to premature aging and have been linked to nearly every single serious health issue.
AGE Foundation Vice President Jeff Johnson said many people don't know that managing AGE levels is a crucial aspect of maintaining optimal health.
"AGE levels are just as important as other major medical markers (blood pressure, body mass index and cholesterol), but while scientific research of AGEs has steadily increased over time, public knowledge of AGEs and AGE management is still lacking," said Johnson.
This year, Morinda will celebrate AGE Awareness Day by offering free health education and AGE health scans to the public using the TruAge Scanner, a certified research device with technology proven in over 100 clinical studies to accurately measure AGE levels. Its fast, non-invasive method measures an individual's AGE levels in less than 20 seconds.
Morinda's AGE Awareness Day celebration at its corporate office will take place Friday, June 19 from 11 a.m. to 3 p.m. at 333 W. River Park Drive, Provo, UT 84604.
For additional information about this year's AGE Awareness Day events and AGEs, visit www.morinda.com or www.agefoundation.com.
About Morinda
Founded in 1996, Morinda is a global, research-driven company with a mission to use the power of nature to help people live healthier, longer lives. Cutting edge technology and extensive research have allowed Morinda to develop an innovative Tr?Age product line, as well as other natural wellness products that reflect its passion to help people live younger, longer. Morinda is headquartered in Provo, Utah, and has a presence in over 70 countries worldwide. Learn more at www.morinda.com.