Shawn Cornett and Damien Pechacek – Ambit Energy Top Earners
June 25, 2015
By Team Business For Home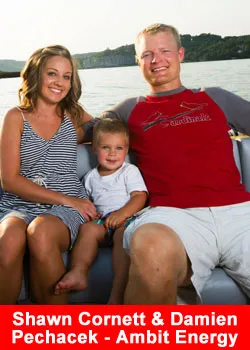 Shawn Cornett and Damien Pechacek work as a team and are in the Top 20 of Ambit Energy income earners.
Ambit Energy provides electricity and natural gas services in deregulated markets across the United States, primarily marketed through a direct sales channel of more than 250,000 Independent Consultants.
Shawn and Damien are awarded with the: Co-Founders Impact Award, Co-Founders Leadership Council, Nine Time 5-Star Club Qualifier, Pacesetter, and Powersurge & Pure Energy Award Winner.
When we asked Shawn and Damien What is your secret?, this is what they answered:
Six years ago we were not in a good position, financially, whatsoever. It was probably the worst possible time that we could have in our lives. We were so busy just taking care of bills and to be perfectly honest we were kind of burnt out of the network marketing. But after quite a bit of persistence, for which we're very thankful to Steve Thompson, we finally broke down.
What makes our opportunity different is that we've got something here that just… makes… sense. And more than anything else, we do not have to beat anybody up just to get them to see what we have here. You've got a utility people have got to have, can't live without, we can do it cheaper. And we've got an opportunity built around that value proposition that changes lives in a very, very big way.
Because we both live in non-deregulated areas, we get the question a lot, how have we done it? We have got teams in every state that Ambit operates and we are growing very remotely. With, I guess I would say, much less hands-on effort that a lot of people are used to. One of the reasons that we're able to do that is because of the tools like EnergyGoldrush.com and many others that are detailed on our website www.AmbitPros.com.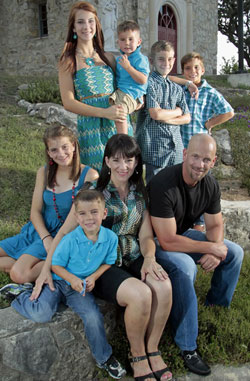 Using tools and systems is also how we're able to work so well together because we know we're operating from the same playbook so to speak. We can each pick up where the other left off because we follow the exact same process in building the business. We haven't done anything different. We've just mastered a few simple things and keep doing them over and over.
We know how this business of network marketing works, and when you apply it to something as powerful as Ambit, it just works better. We have learned through the years that it's not what you do, it's what you duplicate.
And that's exactly what the systems do… they help you duplicate. It's not about your personality. It's not individualized; it's what the masses can do. This is why we've able to build regardless of location and duplicate quickly… by leveraging tools and systems.
About Shawn Cornet
As a self described "serial entrepreneur", he is very proud of his college dropout status and the fact that it was done with less than a semester to go. Outside of Ambit Energy, you can find Shawn spending time with his wife, Liz, and son Sam. He is also frequently seen skiing on the lake or in the mountains.
Shawn started in network marketing his junior year of college and got a taste of the lifestyle it could generate. Mistakes and bad decisions led to years of blood, sweat and tears invested into the wrong opportunities. But in the end he is thankful for the journey that put him in the position to have been introduced to Ambit Energy; and the experience to recognize it for the industry giant that it has become.
About Damien Pechacek
Damien's passion and dedication for training and developing others, commitment to remaining a student of personal development and his visionary leadership is what led to the development of organizations that numbered into the tens of thousands worldwide.
Damien graduated from Texas A&M University in 1993. He immediately pursued a full-time career in Network Marketing. Over his 14 years he has been a Top 10 money earner in several companies. These companies ranged from ground floor start ups to well established industry giants. Damien's life outside of Ambit Energy centers around his wife and six children. He enjoys sports, traveling, having fun and meeting people.