TLC'S Andrea Blackley Reaches Regional Rank – Exceeds $15K Monthly
June 10, 2015
By Nicole Dunkley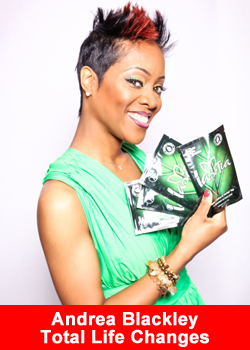 Xavier University graduate and former schoolteacher has found restoration in Total Life Changes. TLC's Regional Director, Andrea Blackley was raised in a single parent household. She grew up experiencing the challenges of providing for a family with only one income.
Her mother's fight against cancer also impacted her while growing up at an early age. "She was stricken with cervical cancer when I was in fourth grade, and that experience groomed me to become a very strong, independent women," recalls Andrea.
Andrea moved back to Houston after graduating and entered corporate America. She struggled to fit in and decided to become a full-time teacher. She served as a third grade teacher for eight years and then was blessed with her son, Nicholas.
Andrea was concerned that her salary as a teacher wouldn't allow for her to lead the lifestyle she dreamed of and provide for her son adequately, so she began to question her career even though she had always found a way to supplement her income; typically by selling jewelry and handbags.
"I was always a part time hustler, trying to earn extra money for my household. In 2008, I decided to get a part time job at Nordstrom and I met a young man who truly introduced me to Network Marketing. From 2008 to 2013, I learned so much about this incredible industry. I was introduced to a different level of leadership and a six-figure yearly income and lifestyle. Life was pretty amazing, because of change, growth, and a new perspective on earning income. Residual income was now my new best friend."
Life became exciting for this single parent, now earning more and doing more for her son and her extended family. She was able to purchase a new E550 Mercedes Benz, a nice home and provide well for her son. But, poor decisions and some unfortunate changes in relationships led to personal devastation and depression. Andrea's income reduced dramatically, she filed for bankruptcy, forfeited her home and most importantly, she lost her self-confidence. "I was in a very dark place. I moved back to Tampa, Florida, where I was hoping to breathe some new air. But I still couldn't catch a break. I was soon evicted and forced to petition a friend for a place to stay, something I was totally against, but I had no other choice," recalls Andrea.
Andrea continued to struggle financially. In October 2014 she accepted a position at True Religion, working for $9 an hour. Although this was not a career choice for Andrea, she did what she does best, "hustle". She was recognized as an incredible employee with tremendous sales and was soon offered a management position. Andrea was flattered for the recognition, but ultimately she knew that she would not be establishing a career at this department store and declined the offer. Two months later, after losing all of her mobile phone contacts, she answered an unfamiliar number. It was current TLC Ambassador, Erwin Portis from Houston, Texas. "Erwin contacted me the day after Christmas in 2014. I was hesitant to speak with him about another MLM opportunity, but he assured me TLC had the whole package,' says Andrea Blackley.
In just sixty days, Andrea Blackley's TLC business was booming. She reached the level of National Director, and is now earning between $15-$20K per month. Total Life Changes has restored Andrea's life. She is excited again, her spirit has been lifted and now she is on a mission to help five thousand families earn an additional $1,000 per week by the end of 2015. "It is pretty cool to catch up on buying things for my son, plan trips with him, treat myself, send my grandmother roses, just because, and just do nice things for people who have been so awesome to me."
Andrea Blackey has tagged herself as the "Home Party Queen". She enjoys the intimate setting that allows for deeper discussions, even outside of business. Getting to know people on a personal level and finding out their "why" has proved to be a valuable practice for Blackley. "I want everyone to know my acronym worldwide within one year: CHANGE – Choose Happiness And Never Give Excuses."
Total Life Changes offers an amazing line of health and beauty products along with a great business opportunity. TLC was created by CEO Jack Fallon over 15 years ago with a single product, Nutraburst, and has grown to include our Iaso™ brand of products like our popular Iaso™ Tea. Our hybrid binary system allows IBO's of TLC to quickly be compensated for introducing new reps to our products and business opportunity. The opportunity for you to feel healthier and flourish financially is what TLC is all about! Join us in Atlanta this July to see it for yourself.