Visalus' Molly Dalbec Discusses Making Healthy Family A Priority
June 11, 2015
By Tina Williams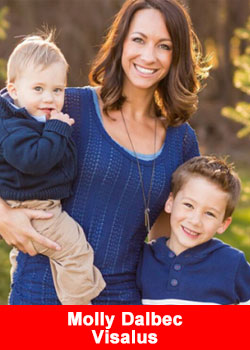 Before Vi, Molly and Chris Dalbec were new parents. Molly had always been athletic, but between late night feedings and adjusting to her new role, she lost sight of self-care.

She opted for quick and easy food choices for months before exhaustion and malnourishment kicked in. After consulting with a local nutritionist, Molly realized she needed to make some major changes to her diet—and lifestyle.
She was at a crossroads. Weighing the pros and cons of being a stay-at-home-mom versus returning to her career field as a medical assistant, Molly found the daycare costs compared to what she would be taking home if she went back to work simply weren't worth the time she would be missing with her young son.
"The good news was I knew about the income potential of running a home based business. The bad news was I had seven on my record and was still $35,000 in debt from previous trial and error," says Molly.
She researched Vi and sat on the opportunity for six months. Finally, in December 2010 Molly made the move and enrolled as a Promoter. She hit Rising Star in 30 days, made her way to Regional Director in March 2011 and was earning a six-figure income at Presidential Director by June. In March 2012 Molly rose to 2-Star Ambassador and ultimately became a millionaire in under three short years.
What moved Molly to devote her time and energy building her Vi business were the life changing stories, community culture and charitable giving program, Project 10™ Kids.
"I wanted to be part of something bigger than myself," says Molly. "I wanted to make an impact and I knew I had the inner entrepreneurial drive."
The Dalbecs are fiercely loyal to The Challenge. Molly got fit and added 9 lbs. of lean muscle as she prepared for her first duathlon, a run—bike—run competition. Following the birth of her second child she dropped more than 30 lbs. of baby weight over multiple Challenges. Chris initially lost 30 lbs. on his own Challenge. He maintains his health and fitness with a balanced diet that includes various Vi products, but is centered on Vi-Shape® and includes regular exercise.
"Being on The Challenge has allowed our family to make health a priority and live an overall better quality of life," says Molly, adding, "And we are building a legacy for our boys."