Visalus' Nick and Ashley Sarnicola Donate $200,000 To Budding Entrepreneurs
June 6, 2015
By Tina Williams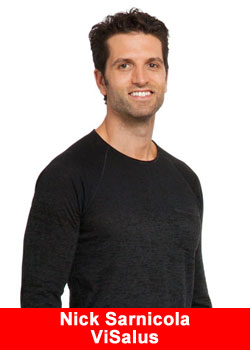 Visalus shared the recent charity contribution from their co-founders:
Entrepreneurship is what lights the path on our mission to transform Life, Health and Prosperity around the world.
Global Ambassador and ViSalus Co-Founder Nick Sarnicola and wife Ashley made history with a generous $200,000 donation to Muskegon Community College's (MCC) four-year-old Entrepreneurial Studies program in Michigan, the college officially announced today. The media responded accordingly with overwhelming news and video coverage including stories that appeared on ABC, FOX and more.
Local real estate developer Jonathan Rooks donated the former Masonic Temple in downtown to the College as the new hub for entrepreneurial and related business generating activities. He tapped long time friend and West Michigan native Nick, who together with Ashley responded through their Next Generation Entrepreneurs (NextGEn) Foundation with a $200,000 permanent endowment to the Foundation for Muskegon Community College (FMCC). The fund will provide a $10,000 annual Rooks Sarnicola Entrepreneurial Award to MCC Entrepreneurial Studies program graduates.
"Jon and Nick are making history at MCC with these incredibly generous gifts," says Director for the FMCC Tina Dee, adding, "The total value of $550,000 is larger than any other single past contribution and will have an enduring and positive impact on our students and the greater community we serve."
The nearly 24,000 square foot edifice built in 1948 is set to re-open as the Rooks Sarnicola Center for Entrepreneurial Studies by Fall 2017.
"The building and scholarship fund will serve the dual purpose of catalyzing our regional economy and providing much needed entrepreneurial training for our residents," says MCC President Dale K. Nesbary.
Nick and Ashley's donation supports innovation and entrepreneurship among college students, and echoes what the couple has been doing to give back to local communities for years through ViSalus.
"We would love to see the next successful business owners of Muskegon come right out of the Rooks Sarnicola Institute for Entrepreneurial Studies and make a big difference locally one day," says Nick.
The endowment is a local example of what the power couple's global vision for giving back holds. Nick and Ashley seeded the NextGEn Foundation with $1 million, backed by a mission to foster entrepreneurship through scholarships, seed capital and mentoring for budding entrepreneurs.
Although the couple has amassed $11 million in Vi career earnings, they've been transparent about their community service oriented values from day one.
"It's not about making a ton of money," says Ashley. "It's about getting to a place in life where you can give back."