Wenqing And Aurelien Bouche-Pillon – Ambit Energy Top Earners
June 28, 2015
By Team Business For Home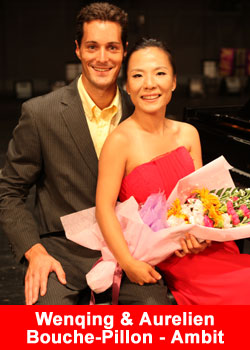 Wenqing is a concert pianist and music educator who immigrated from China with her family during her early 20's. She graduated from the most prestigious music school in US and received her Doctoral degree in Piano performance and literature. Life should be all set to go, great degree, good job, but one thing has been on her chest that have to be resolved—her parents' retirement.
As immigrants of over 50's, her parents sacrificed everything in China for their daughter's future in US, their upcoming retirement like fire firing fast to reality.
Wenqing's mother once has succeeded in Multi level marketing by selling products and understood the power of the business model after moving into US, however, when the economy shifted her mother's incomes dropped tremendously. The urge of settling their retirement no longer can be delayed.
Aurelien immigrated from France 8 years ago with the only one goal—to change his life and become an entrepreneur. He came with nothing else than 2 surfboards and could not speak a word of English. He always say: "actually I came with everything : a dream and massive actions without ever looking back."
His first job was a dishwasher and even had nights without a roof but his dream was too big to let him be stopped by the many obstacles. Aurelien kept working hard and tried many businesses including his own line of apparels that he sold in many states but when economy started changing he knew he had to look for something less fickle.
"America is made by stories and dreams of those who make plans and act upon it"
At first Aurelien denied the opportunity that Wenqing brought home and he refused to help her in the journey that she decided.
Everything changed in the moment, when Aurelien met CEO Jere Thompson and CMO Chris Chambless, he was amazed by the high class and integrity these two men hold along with their outstanding business backgrounds. The power of residual and the freedom immediately changed Aurelien into a messenger of freedom .
Wenqing remembered the speech once CMO Chris Chambless gave in a presentation "once you are financially free, you will have a lot of sources to think what you truly want to do and want to be." And that is what she believes, "once people can achieve the true freedom, we create values to give back and make the society a better place. It is not up to the government, it is up to us to contribute. And Ambit is perfect inside out to make this happen to everyone. "
Wenqing Bouche-Pillon On Stage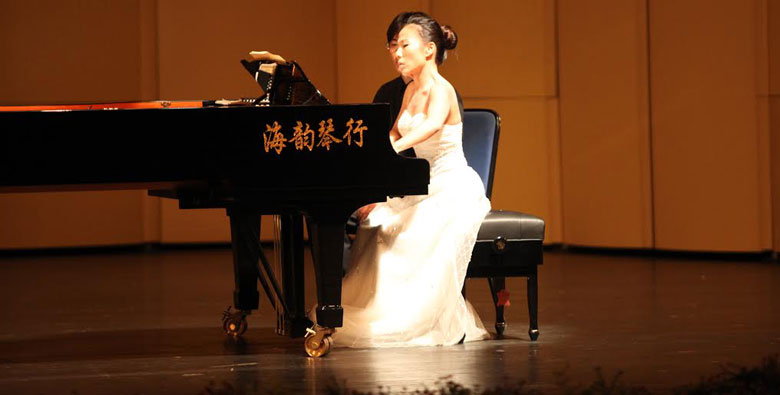 Wenqing recognized Ambit and counted it as a true blessing—the perfect combination with the power of MLM but the right service below retail price that everyone uses without even thinking about it. Her focus is clear—Retire parents and change other's lives. "I used to use music to comfort people's spiritual lives, but now, I could change their real world, too, not just spiritual ecstasy, but also real lives! " She worked her way without having any experience of network marketing or businesses, but with great mentors, strong faith, and a very strong discipline.
As a competitor in surfing and event organizer, Aurelien loves people and nature. Ambit is the perfect vehicle to build the life he wants.
As they grow their business, Aurelien developed a strong passion to lead people, always lead by example to keep moving forward and touching more people. Aurelien can't say enough that anyone CAN be successful with the right vehicle if they want it bad enough. "we helped many people to better their lives as ours are getting transformed as well."
Aruelien Bouche-Pillon Riding The Waves
Aurelien believes in the power of words, the message at the moment could transform lives, he loves public speaking and inspire people, and feel responsible to help America to dream again. He says: "We, entrepreneurs can change many many lives and the compound effect of that can change a country and the world"
Wenqing used to work 60 plus hours a week, teaching over 50 students weekly, plus rehearsing, concerts; she also committed in driving 4 hours a day to make a living, a position as Ph.D holds which many people may envy. In the meantime, Aurelien was working very hard to establish his international business with all traditional businesses have to face, handling all heavy lifting in all sides plus a financial risk.
In less than 5 years in Ambit Energy, the young couple who has no experience in MLM, but with a strong desire and work ethics, they have been able to say "NO" to their full time jobs, instead, they start enjoying the true meaning of life—to live and embrace life fully; helping parents, traveling, surfing all over the world, learning different cultures, helping, volunteering and impacting people's lives. Aurelien often says, "nothing is more precious than time, if you are healthy and have time to enjoy what you love, that is the true wealth."
As the couple keep growing and setting high goals to themselves and help many to reach their freedom, they know, to become better, being humble is the key. That means keep learning, they got the privilege to become friends and mentored by Steve Thompson, who gives his expertise and knowledge of MLM in their personal and professional growth.
"we are grateful to be in America, especially being with Ambit Energy, a great opportunity to grow ourselves in many ways. The possibility is unlimited and endless! "
Contact information Wenqing And Aurelien Bouche-Pillon: