Avon Turns A Profit For First Time In Years
July 31, 2015
By Tina Williams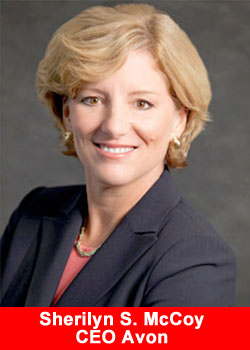 The Wall Street Journal reports: Avon Products Inc. may be seeing some light at the end of the tunnel.
The door-to-door seller of beauty products reported another quarter of sales declines, but its beleaguered U.S. business showed a profit for the first time in years, putting Avon on track to reach one of Chief Executive Sheri McCoy's goals in her attempted turnaround of the company.
New York-based Avon on Thursday said second-quarter revenue fell 17% to $1.82 billion, dragged down by many foreign currencies weakening against the U.S. dollar. Excluding currency effects, sales were flat overall, with declines in Brazil, the U.S. and elsewhere erasing gains from Russia and the Philippines.
Avon sells a wide range of cosmetics, perfumes and accessories through a network of roughly 6 million representatives world-wide. The number of representatives actively selling products slipped 2% in the recent quarter from a year ago, driven by a 16% drop in Avon sellers in North America, where sales fell 15%.
The U.S., which generates around $1 billion in annual sales for Avon, is the second-largest country for the company despite years of sales declines. Company executives have been trying to resuscitate the business because it is Avon's home market, and they feel it is important to the brand. The Wall Street Journal reported in April that Avon was exploring strategic optionsincluding whether to sell or hive off the North American business. The company hasn't publicly discussed the review.
Ms. McCoy on Thursday said the North America business turned a modest profit in the recent quarter, due to heavy cost cuts. She said that puts the division in a position to return to profitability this year, a goal she had committed to earlier. It was the first quarterly profit for the division since the fourth quarter of 2012.
The U.S. business remains deeply challenged, however. Ms. McCoy said Avon is still struggling to retain sales representatives and to get them to increase sales through channels such as its e-commerce website. "We see elements where we are making progress, but these are not big enough to change and shift the momentum in the field," she said on a call with analysts. Web sales, she added, are less than 10% of the business.
Ms. McCoy became Avon's CEO in April 2013 and is under pressure to produce better results.
On Thursday, Avon executives sounded a cautious outlook broadly. "We continue to face a very challenging environment, and we expect this to continue for the intermediate term," said Chief Financial Officer Jim Scully.
In the June quarter, Avon's beauty division sales fell 17%, but increased 1% in constant dollars, while fashion and home division sales fell 14% and were unchanged in constant dollars.
Avon reported second-quarter net income of $28.8 million, or 7 cents a share, up 52% from a year ago. The company's shares, which have declined 42% so far this year, rose 8 cents or 1.5% to $5.46 in Thursday afternoon trading.
Corrections & Amplifications
The U.S., which generates around $1 billion in annual sales for Avon, is the company's second-largest country. An earlier version of this article incorrectly said the U.S. wasn't a big market for the company.