Four Oceans Global Partners With Alliance Creative Group (ACGX)
July 24, 2015
By Nicole Dunkley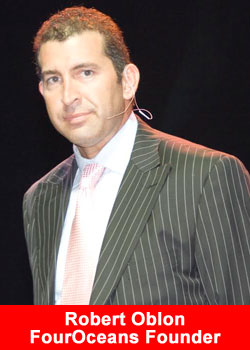 Alliance Creative Group, Inc. (OTC PINK: ACGX), today announces they have entered in an exclusive print, packaging and digital marketing agreement as well as a development and royalty agreement with Four Oceans Global.
Four Oceans is a direct selling organization focused towards lifestyle base products, services and personal development curricula. The two agreements create an ongoing business relationship for Alliance Creative Group to supply print, packaging, fulfillment, digital marketing services and technology solutions as well as become an investor that will receive future royalty payments.
Robert Oblon, CEO of Four Oceans Global, LLC, said, We are very excited to work with the ACG team to help build the Four Oceans' brand. With their wide range of valuable services we are able to replace multiple vendors to help create, develop and implement multiple ideas and opportunities and leverage their experienced team and shared resources. Our business model is very expandable and we have been looking for the right strategic partners to leverage our experience, relationships and patented technology to take this to the next level and we think we found that in ACG.
Paul Sorkin, COO and General Counsel of Alliance Create Group, Inc, said, We believe Four Oceans will be a great partner for ACG because there are so many ways we can help each other grow. We look for companies and opportunities that have experienced leaders with unique and quality products that we feel we can add value to their business plans.
Four Oceans is an exciting opportunity for multiple reasons; first, if we can help them execute a successful business plan the return on our investment will be significant, second, working with them and their customers could potentially introduce us to some even larger opportunities, third, our downside is very limited, and fourth, we will be able to leverage the PeopleVine platform to help them learn more about their customers and create more effective and engaging re-targeted programs and relationships. Overall, this is an incredible situation for us to be an important part of a great opportunity and we look forward to working with the Four Oceans Global team.
About Four Oceans Global
Four Oceans is a direct selling organization focused towards lifestyle base products, services and personal development curricula. The smartest place on earth for YOU to be happy. www.fouroceans.com