QNET Launches LifeQode Nutrition Range
July 20, 2015
By Team Business For Home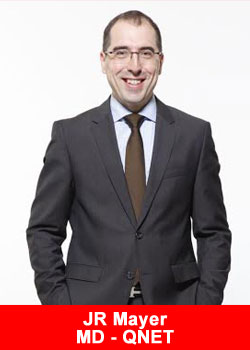 Asian direct selling company QNET has unveiled three food supplements for the global market under its LifeQode nutrition range with products that are 100% vegetarian, organic and halal.
LifeQode is formulated to restore the human body balance by replenishing the consumer's nutrient needs using natural food extracts. The three new health and wellness products are EDG3, Kenta and Berry Xtreme, which are all made from a selection of naturally derived ingredients to provide for better health and well-being.
"EDG3, Kenta and Berry Xtreme each respectively provide a revolutionary immune booster, gentle hormone stimulation and balance, and berry derived phytonutrients. The great thing about these supplements is they are lifestyle friendly. They come in convenient daily sachets and great natural flavours. People can also select and combine supplements based on their nutritional needs," says Trevor Kuna, Chief Marketing Office of QNET .
Explaining the dire need for these products, he said that modern lifestyles invariably result in an over-dependency on processed foods with limited nutrient density.
"This creates a severe imbalance in your body's regenerative capabilities. When the body cannot regenerate effectively, a nutrient crisis will sooner or later lead to a host of chronic health problems. A combination of LifeQode, a balanced diet and light exercise could add life to your years, and years to your life," adds Kuna.
These latest products from QNET are backed by extensive research and development and satisfy a broad set of needs with proprietary formulas that provide great taste while still being healthy.
With the launch of LifeQode, QNET's range of products now numbers at more than 40. QNET sells a variety of exclusive products in a wide range of categories including wellness, personal care, jewelry, nutrition, holiday packages, luxury, homecare, weight management and online education.